For those who like to go "treasure hunting on a budget," Dollar Tree stores will probably be the first stop. Now, you may have heard that these "All for $1" stores offer useless, low-quality products nobody else would sell. However, Dollar Tree is a billion-dollar-worth retail business with an army of devoted customers that would strongly oppose this rude misconception.
After stepping into one of these stores, you will get the impression that you have crashed an amazing party filled with fun items and vibrant colors that add up to the entire friendly and buzzing atmosphere.
If you want to become a part of this energetic, fun-filled environment to develop your retail and customer service skills, look out for the Dollar Tree careers. Here, you will have the chance to become a part of a goal-oriented community and create meaningful relationships with coworkers and customers.
Dollar Tree Jobs
For all the reasons we have mentioned above, working at Dollar Tree may be a perfect first job choice that will provide an invaluable experience and lessons about work ethics and how to treat customers. Furthermore, the encouraging and diverse working environment will help you grow professionally while interacting with various creative customers who turn Dollar Tree items into DIY "wonders."
Thus, if you are a people pleaser who likes spending time in an energetic environment bursting with fun and creativity, keep reading, and find out how to apply for an open position at Dollar Tree.
Hiring Requirements
Bear in mind that you have to be at least 18 and a legal US resident to apply for the job at Dollar Tree. Furthermore, this company does not conduct background checks or drug testing for sales associate or cashier positions. However, if you are applying for managerial positions, you can expect to be subjected to these checks accompanied by specific skill tests.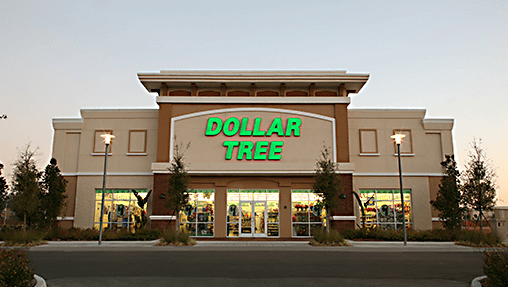 Does Dollar Tree Offer Benefits?
Dollar Tree offers an extensive list of various benefits to their full-time employees, and you can see all of these below:
Insurance: Health, vision, dental, life, and disability insurance
Leave: Parental leave and paid time off
Retirement: 401k retirement plan
Financial benefits: Quarterly and monthly bonuses and stock options
Other: Flexible schedule
Careers At Dollar Tree
People at Dollar Tree will recognize and appreciate hard work and effort, encouraging talented workers to develop their retail skills and grow within the company. This means that after one year spent at Dollar Tree, you may expect the opportunity to advance on the company ladder. This said, you will have a significant advantage over other candidates when applying for managerial positions.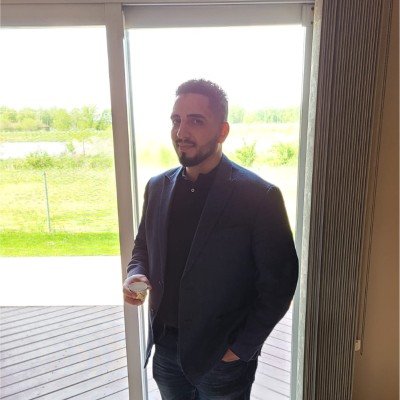 Dollar Tree District Manager
A Dollar Tree District Manager has a demanding role of hiring, training, and developing efficient sales associates teams. They are also responsible for maximizing sales and reaching profit goals on a district level.
District Manager Salary: $77,545/year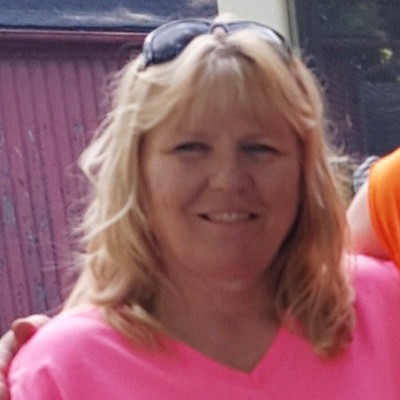 Dollar Tree Manager
The person fit for the Dollar Tree Manager has to be a natural-born leader with outstanding multitasking skills. As the Dollar Tree Manager, you will be in charge of recruiting, hiring, training, and developing sales associate teams. Also, you will strive to maintain superb customer service and other Dollar Tree high standards regarding retail business.
Manager Salary: $44,503/year
Dollar Tree Assistant Manager
The main responsibility of the Dollar Tree Assistant Manager is providing exceptional customer service, maintaining inventory, and completing the paperwork. You will also have to make sure that the store looks presentable, meeting the company's standards daily.
Assistant Manager Salary: $26,514/year
Dollar Tree Sales Associate
If you are a people-centered, energetic person motivated to provide excellent customer service and to jump into any other role needed to help the team reach set goals, then you may be the perfect candidate for a Dollar Tree Sales Associate.
Sales Associate Salary: $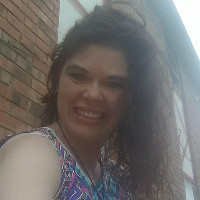 Dollar Tree Cashier
The person fit for this role will be responsible for taking care of payments from customers while maintaining a friendly attitude and continual eye contact. You may also be in charge of creating attractive product displays in the store. So if you are outgoing, creative, and good with numbers, a Dollar Tree Cashier may be the job you are looking for.
Cashier Salary: $8.97/hour
Dollar Tree Application 2021
You may be wondering about the Dollar Tree hiring process and the ways you can apply for the wanted job. Don't worry as we've got you covered. Here, you will find out how to fill in a printable PDF Dollar Tree application form, which you can submit personally in one of their stores.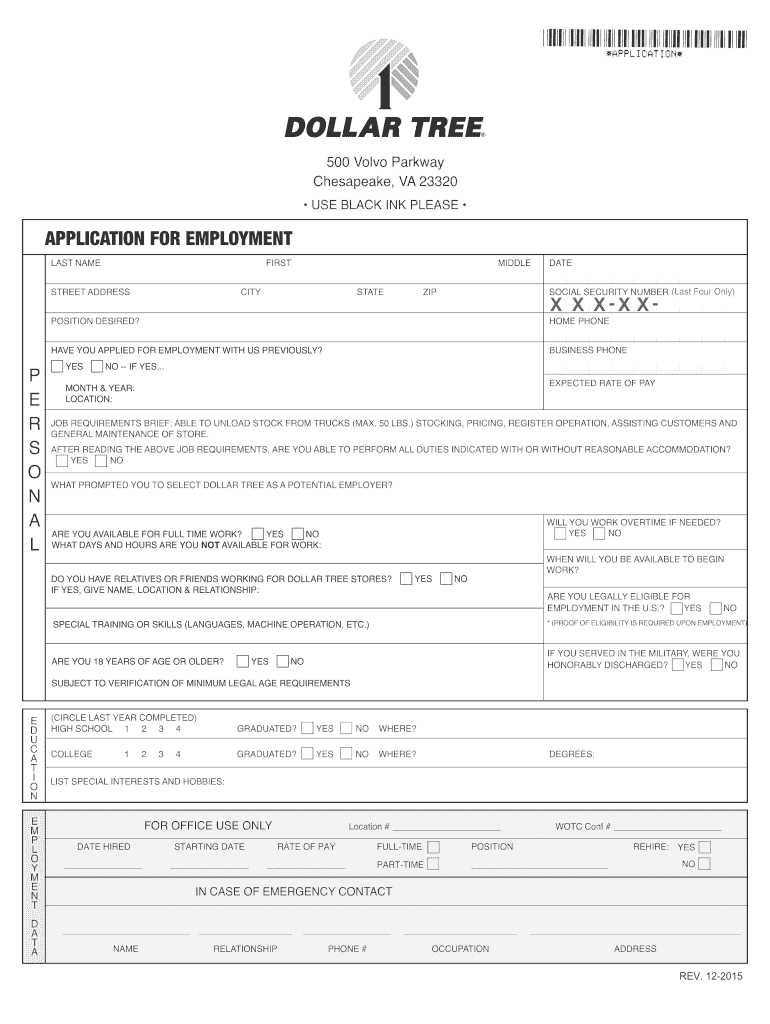 When you download the application form, you will see that it contains three sections requiring essential personal information followed by education and work history.
First, you need to provide basic information like your name, address, phone number, and social security number.
Then, you are expected to read the job requirements and see whether you are eligible for the role. After that, you will answer several questions related to the company, like why you want to work there and so on.
You should also fill in the availability fields stating what days and hours you would be able to work and whether you are 18 and a legal US resident.
The education section requires you to provide info about your education level, marking the high school or college year completed or whether you have graduated or not.
Finally, you will get the chance to give a detailed list of your previous work experience in the Employment History section. Here, you will list previous employers (if any) and provide a short description of your duties.
Finally, there is a Certification section that you need to read carefully before signing your application form. Once you have filled in the form, take it to the nearest Dollar Tree store, and wait for a hiring manager call.
The Dollar Tree application process is easy for those who prefer to do this online. You need to visit their website and go to the "Career" page. Once you land there, choose the store location and the position you want to apply for, and start answering the questions. Once you have answered all the questions, submit your Dollar Tree online application form to finish this process.
Do You Need A Resume For Dollar Tree?
Even though you may think that you have listed all the significant information related to the position you are applying for in your Dollar Tree job application, adding a sleek resume to it is always a good idea. By making this extra step, you will leave the impression of a responsible person who respects the company and really wants to get the job. Furthermore, the employer will get a detailed description of your work experience and key skills.
Let's see now the amazing resume templates you can use to make an amazing impression on the hiring manager and stand out among the competition.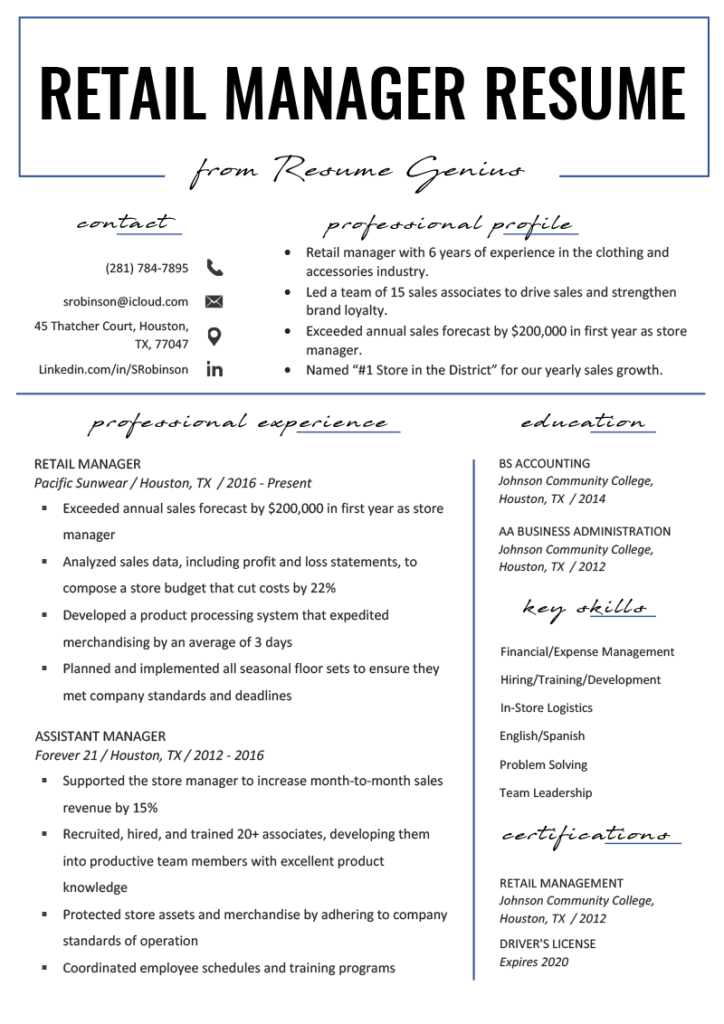 This fancy-looking resume template will offer a detailed insight into your previous working experience and key skills significant for the job you are applying for. Furthermore, it is well-organized and easy to follow.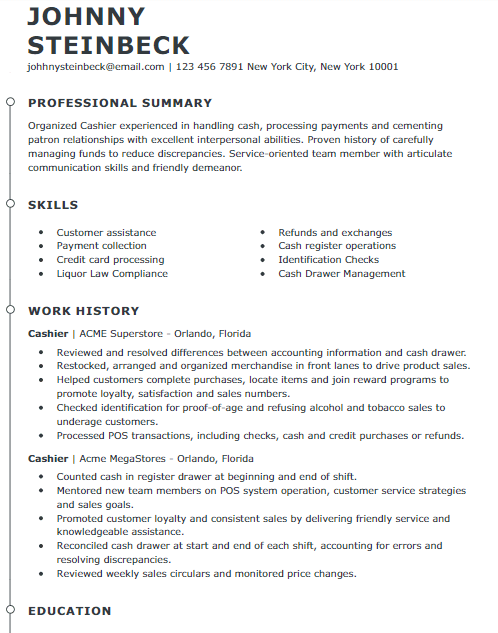 This is another well-put-together resumé template that is easy to follow due to bulleted lists. It allows you to list all your job-related strengths and talk about your previous work experience by offering a list of your responsibilities and achievements.
You will choose this resume template in case you have significant working experience that you want to show off. Hiring managers will have the opportunity to see a detailed description of your main responsibilities and significant achievements in your previous positions.
By picking this template for your resume, you will leave the impression of a well-organized and neat person. Here, the focus is on your key professional skills listed in a clear way so that employers can see that you are the perfect candidate for the job.
Dollar Tree Interview
Preparing for the first job interview is usually a nerve-wracking experience that you may stress over for days. For this reason, we will offer you some tips on what to wear and how to behave during the Dollar Tree interview to make a memorable first impression.
First, make sure you look professional, go for a business casual look, and make sure to take a copy of your resume with you. By looking sleek and well put together, you will show respect for the company and the job you want to get.
Furthermore, you can mention reasons why you love shopping at Dollar Tree and what your favorite items are.
However, after making a favorable first impression, there is an array of interview questions you will need to answer to nail the job here. For this reason, we have prepared a list of the most common questions hiring managers at Dollar Tree may ask, accompanied with example answers that will set you apart from other candidates and convince the interviewer you are the perfect choice for the job.
Dollar Tree Interview Questions
Q: How would you describe your personality?
A: This may be one of the questions job candidates dread the most because they are not sure how to make the answer relatable. This said, nobody expects you to give a detailed description of your personal traits. Try to emphasize job-related qualities, and minimize your weaknesses. For example, you can say that you are a communicative, friendly person, always ready to jump in and help others when things get hectic. Also, you may say that your bubbliness and creativity will fit perfectly in the Dollar Tree environment. Whatever you do, try to be honest, and avoid dry and expected answers.
Q: What are your salary expectations?
A: This is also a tricky question that you need to be prepared for. Instead of asking bluntly, "How much are you ready to offer?" try doing some research prior to your interview. In this way, you will know what the salary range for the position you are applying for is so you may give a reasonable answer. For example, if the average salary for the job is around $27,000, you may say that you expect an annual salary between $25,000 and $30,000.
Q: What would you do if you discovered that a coworker was stealing a product or money?
A: This question aims to find out how reliable you may be. When such a serious issue like theft is in question, you should be honest and straightforward about it, namely, you should address a security officer or your manager immediately.
Q: How would you handle a customer who is aggressive toward you or a coworker?
A: Dollar Tree is a customer-oriented business which means that employees should go above and beyond to meet all customers' needs. However, sometimes your best efforts will not be good enough for some people, leading to awkward or unpleasant situations. The best way to answer this question is to convince the interviewer you will stay cool and collected, trying to keep everything under control. Also, you should try and appease the customer by listening to them carefully and offering some solution. On the other hand, if you feel that the situation is getting out of hand, ask your manager or the security officer for help.
Q: What type of work environment do you dislike working in?
A: Dollar Tree is known as a fast-paced but supportive and encouraging environment. Knowing this, you should describe the stark opposite to it in your answer. For example, you can say that you cannot see yourself grow in a slow but highly competitive environment where no one supports your personal and professional development.
Q: How do you ensure that you always put the customers' needs first?
A: You need to be aware of the fact that everything revolves around customers and meeting their demands in Dollar Tree stores. For this reason, you need to leave the impression of a friendly, approachable person who will understand and respect customers and make an extra effort to fulfill their needs. One of the secrets of excellent customer service is to listen carefully and treat everyone with respect. By doing this, you will come across as someone who cares about customers, and they will gladly return to the Dollar Tree store.
Q: What was the most challenging position you have held? Which was your favorite, and why?
A: If you are applying for your first job, it may be difficult to answer this question. Don't worry as hiring managers are full of understanding for inexperienced candidates, encouraging them to provide relatable answers. Therefore, you can use any challenging situation that you tackled in the past to show that you are not intimidated by difficulties.
You can talk about the challenges you needed to overcome to achieve goals at school, for example.
Q: Give me an example of a time when you went above and beyond.
A: This is a perfect opportunity to put forward your strongest sides. This question focuses on your customer service skills. Here you can use an example from your private life or school. Therefore, you can mention the time when you organized a fantastic surprise party for your mother or a charity sports day at your school. The point here is to focus on something that you put an effort in to make others happy and satisfied.
Q: This position requires a flexible schedule as we are open evenings, weekends, and most holidays. Are you able to commit to these hours?
A: Hectic working environment at Dollar Tree stores requires a high level of availability from their employees. However, no one will expect that you will be open to work 24/7. You should devise your personal schedule, marking the days and hours you will spend at a store. In this way, you will leave an impression of a well-organized and reliable person.
Q: Do you consider yourself to be a creative person, capable of making an attractive retail display?
A: Numerous former and current Dollar Tree employees stated that they liked working there because the job was easy and they had fun stocking shelves in an eye-pleasing way. Furthermore, the colorful and creative display adds to the festive and fun atmosphere that Dollar Tree stores are known for. So, this is the perfect opportunity to show your creative side and keen eye for detail.
Q: Why do you want to work for us?
A: Here, you should focus on the company, showing in your answer how much you know about the Dollar Tree values and company culture. This is a customer-focused and goal-driven company, and you should say that you would like to develop your customer skills by learning from the best. You should also say that you will enjoy working in a fast-paced yet encouraging environment, where you can have various tasks and learn new things on a daily basis.
Q: Tell me three qualities you possess that make you a strong fit for this position with Dollar Tree.
A: This question is similar to the one about your personality, so try to emphasize your strengths by referring to it. Thus, you can say that you are communicative, friendly, and energetic which are all preferable traits when working in a fast-paced retail business like Dollar Tree. Also, you may add that you are willing to learn and develop your multitasking skills to contribute to the team in meeting daily goals.
What Happens After The Interview?
We know that you would like to know whether you are hired on the spot. However, you will need to be patient. Once you have gathered all the required documents, filled in and submitted the application form, and have finished the job interview, try to wait for a week. If you do not hear from the hiring manager a week after your interview, follow-up for feedback.
If you have any questions or comments related to this topic, feel free to leave these here.
We wish you the best of luck with your job search.