Howdy, y'all! Let me guess – you've landed on this page because you have tried Cracker Barrel's incredible menu and their famous comfort meals have tempted you to start working there! Am I right? Believe me, I'm as big of a fan of that fried apple as you are, but maybe there's someone out there who doesn't know what Cracker Barrel is all about. So… drumroll, please!
Cracker Barrel is a quaint place full of Southern charm – you can sit back in a rocking chair and eat like a king. They have been serving amazing American-style country cooking since the '60s. The venues are usually divided into two – a shop selling merchandise which you have to go through in order to get to the second part – the restaurant. The atmosphere is amazing – old-timey objects are hanging from the ceiling and country music is playing to cheer everyone up. They have become such a customer favorite that their business has spread around 640 locations in the US, so you'll be glad to know new jobs are constantly popping up.
Cracker Barrel Jobs
Speaking of jobs at Cracker Barrel, it's a really great place to start if you have little to no experience. If you're a fan of country cooking, want to get discounted food and retail items, and want to have a flexible working schedule (it's truly a bargain deal for students), then crack on with applying! Know that this restaurant chain gets very busy at times – they really do provide amazing food for a great price and customers typically spend about 30-40 minutes eating there, so you'll get a huge turnover (which, luckily for you, also means a lot of tips). Cracker Barrel also offers amazing benefits which you can check out below.
Hiring Requirements
Great news – if you're 16 and have little to no experience, you can absolutely apply for the majority of entry-level jobs like server, host, sales associate, and busser. Of course, if you think you've got what it takes and want to apply for management, you'll have to be at least 18 and meet several other requirements such as management-related experience and a High School diploma. But we'll dive deeper into that subject a little later.
Does Cracker Barrel Offer Benefits?
Yes they do and some great ones! I do have to specify that you won't get a free meal working at Cracker Barrel. Bummer, I know! But with their affordable prices and discount in mind, you'll be getting meals dirt cheap. If you're serious about applying, though, there are more benefits than just great food:
50% discount on meals and retail items: Available for all staff.
401 k: Available for all staff.
Yearly bonus: Available for management only.
Flexible schedule: Available for all staff and especially part-timers.
Health and dental insurance: Available for all staff.
Tuition reimbursement: Available for all staff.
Cracker Barrel really does care about providing benefits to their employees – they're all about creating a tight-knit community. The company also works with charities and supports communities both financially and through volunteer work, so you'll have plenty of opportunities to feel like you're part of a family.
Careers At Cracker Barrel
There are plenty of career options you can choose from when working at an establishment that's basically a mix between a restaurant and a shop. You can apply as a cashier, kitchen porter, and even chef!
Today, however, I'll focus on expanding on the career path available by Cracker Barrel. Another great thing about this company is that they also offer corporate positions in case you have worked there for a while and realized service isn't your thing.
Cracker Barrel Manager
The Cracker Barrel manager is responsible for overseeing the work of the hourly team members. This means leading and engaging with their workflow, providing support, and stepping in when needed. If you feel like you have a passion for leading people and have strong delegation and business skills, this job will be great for you. Know you'll need two years of management experience to be considered for the role! Don't get discouraged as that also means assistant manager experience too!
Cracker Barrel Manager Salary: 71 491$ /year
Cracker Barrel Assistant Manager
Assistant manager positions are perfect for anyone who is confident with the environment and has spent at least 1-2 years working for the company already. It's the natural progression from a server position at Cracker Barrel. Once you have gotten to know the team and the type of service, been through quite a few stressful shifts, and started to gain confidence in your role, you can begin proving your leadership abilities and step up.
Cracker Barrel Assistant Manager Salary: 36 270$ /year
Cracker Barrel Host
If too much responsibility is not something you're looking for and you want to start with something a lot easier, entry-level jobs such as host will be a good idea. You'll be taking calls and reservations, greeting customers and taking them to their seats, and being the face of the company overall. It's not a bad job at all, so if you want to have it a little easier and you believe in your communication skills and pleasant personality, try your luck as a host!
Cracker Barrel Host Salary: $9 /hour
Cracker Barrel Server
Server jobs never sound appealing until you remember the tips you'll be getting. Remember that 30-40 minute turnover that I mentioned? If you get a constant stream of clients during the day, you might walk out with more than your average daily pay. It's the best way to earn some extra cash and feel good that someone is appreciating your effort! If you can solve problems in stride, be flexible and work well in a team, this will be the ideal position for you.
Cracker Barrel Server Salary: $13 /hour
Cracker Barrel Application 2021
Applying for a job at Cracker Barrel is easy. All you have to do is visit their official website and go to the careers page. You can start looking up available job positions immediately. They can be filtered by location and job role.
Click on the title to view the job role and if you like what you see, you can start applying by creating a profile. Start filling in your personal details and when you're done, go to the next section.
You'll be prompted to upload a resume which is optional. I know this will be a huge green light for anyone who can't be bothered with preparing those annoying CVs, but I cannot be more direct – if you want the job, put in the effort. It really shows. If you're unsure how to start, I've decided to give you my ultimate tip below – downloadable resume templates. They are time savers, and you can easily find free examples online.
Do You Need A Resume For Cracker Barrel?
Imagine the following scenario: you arrive for the long-awaited interview. You have been applying for jobs for weeks and finally, you get called in by Cracker Barrel. They were extremely happy with your online application and asked to see you literally the next day. So you arrive at the spot – for once you're early, you're not sweating profusely, and you're even wearing your lucky socks. You go in, confident that this will be it. The interviewer is pleasant – they're just about to open up your application on their laptop to ask a few questions when suddenly their computer crashes. Unfortunately, the interview can't go on because you forgot to bring a printed copy of your resume or worse – you didn't have a resume to begin with. It's pretty annoying to think about, isn't it? It sounds like fortune cookie advice, but you should always bring a printed resume with you – it can save the day!
If you don't know how to approach the CV-making process, I've added some templates below that will give you a good idea of what to include. I have listed three examples which you'll hopefully gain inspiration from.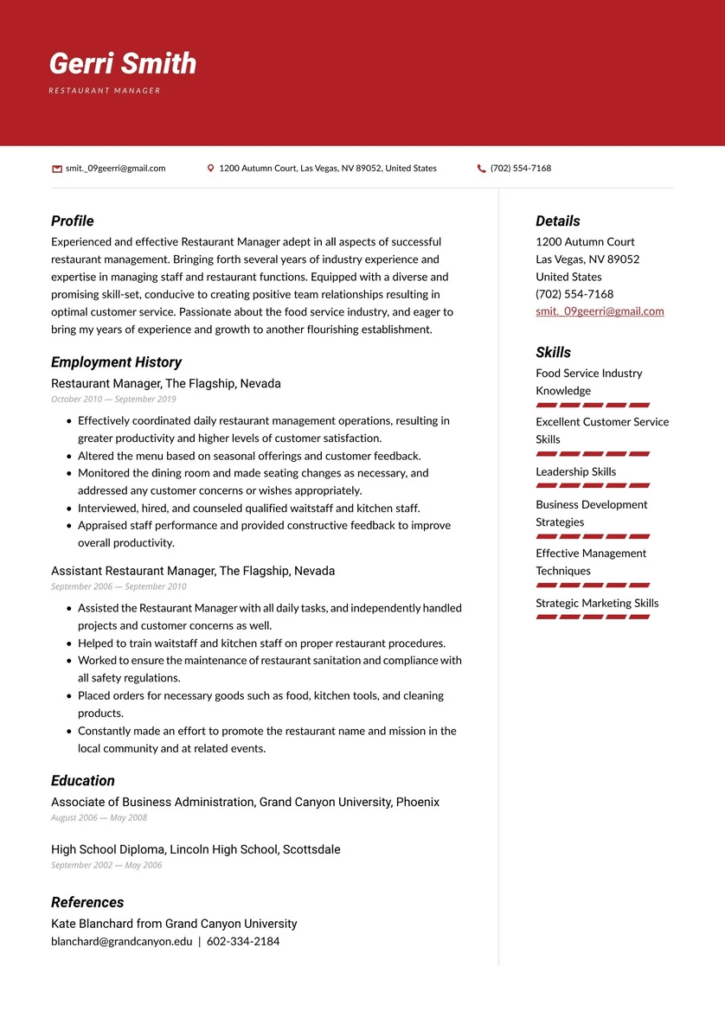 This should be obvious but it's worth mentioning for first-timers – highlight the most valuable experience you have had in the recent past. Keep it relevant to the position you're applying for. Above everything, make sure to emphasize your abilities. This template perfectly divides your skills and education, making it easy to follow and read.
Your main responsibilities include greeting guests and being the first point of contact for people when they come in. Have you worked with a lot of people in a previous job? If not, maybe you volunteered somewhere and that gave you the confidence to talk to strangers? Or, maybe your friendly and positive attitude made you consider getting a job as a host/hostess? Don't be afraid to write that down!
The server position is one of the most readily available positions out there, even in Cracker Barrel. You don't need a lot to start as a server, but listing some key skills, such as speaking different languages (if you do), problem solving, and adaptability skills is important and will certainly impress your future boss.
Cracker Barrel Interview
I recommend you strap in and read the Cracker Barrel fun facts over one of their amazing Moon pies:
The first Cracker Barrel opened just off of Interstate 40 in 1969 by a man called Dan Evins.
Evins was working for his grandfather's gasoline business when he opened the first Cracker Barrel, and back in the late '60s, it used to sell gas!
Cracker Barrel doesn't support Evins' grandad's oil business any more. Instead, they have taken on a more eco-friendly approach. 32 Cracker Barrel stores across the US have electric car charging stations!
All the decoration items on show at the Cracker Barrel stores are legitimate vintage items. It's a tradition started by Don and Kathleen Singleton – two antiquarians who helped Dan Evins decorate the first stores.
Cracker Barrel serves over 11 million orders of Chicken n' Dumplings a year and another 4 million Moon pies annually. I'm getting hungry just thinking about it!
Ever asked yourself why they called it Cracker Barrel? A lot of American country stores in the 19th century used soda barrels for tables. People would gather around, chat, and socialize. That's how the term "cracker-barrel" was coined and it eventually stuck around!
Over 10 million peg games were made specifically for the Cracker Barrel stores – it's their clever way of passing time while waiting for the food to get ready. Here is a video solving the Cracker Barrel peg game in just under 10 minutes!
The rocking chairs you see in the front of every Cracker Barrel are handmade by the Hinkle Chair company – a five-generation family business responsible for the restaurant's best-selling item!
Cracker Barrel has some pretty funky facts I think. But let's get back to business – how to get a job at Cracker Barrel. The next section is all about answering interview questions in the best way possible.
Cracker Barrel Interview Questions
Q: Why do you want to work at Cracker Barrel?
A: The best way to approach this question is by being honest. Have you been a returning Cracker Barrel customer? Do you love the food and the atmosphere of their store? Maybe there's a sweet childhood memory you have related to the store? I bet you have at least passed by a Cracker Barrel restaurant on one of your car trips!
Q: What are your top 3 strengths?
A: The answer to this question, of course, depends on the job role you're applying for. If you're going for a host position, talk about how being friendly and approachable is your strong suit. You also don't get easily distracted and you actually like talking on the phone. Do you have any acting experience? Customer service, for the most part, is basically like playing a role, so perhaps there are transferable skills somewhere in there?
Q: What are your top 3 weaknesses?
A: Sadly, after so many interviews I have attended over the years, I can safely say there is no avoiding this question. Try to be realistic. Saying you're simply perfect won't be good enough here. Think of skills you really should improve on – maybe this new job will help you with those? Are you a bad listener, do you get a little stressed when working under pressure? Let your interviewer know that you're working on improving yourself and want to get better. We all, without exception, have our negative qualities. It's how we turn them into positives that matters!
Q: Why should we hire you?
A: Imagine you're pitching yourself to someone – make a spicy mix between your skills, your personality, and a few unique facts about yourself that will make you stand out from the crowd. Explain how you're the perfect candidate for the job and if you can, throw in some details about the company – what you enjoy about it and what appeals to you. Make sure they get how excited you are about becoming part of their team and how you can't wait to contribute to it with your personality and ideas.
Q: Where do you see yourself in 5 years?
A: It might be a little difficult to answer this question if you're not fixed on working for Cracker Barrel long-term. Trust me, no one is about to force you. It's alright if you don't know your plans for the future yet. Not all of us have our lives figured out but am I wrong in thinking you need a stable job to support yourself? Hell yeah! That's a perfectly fine answer to give without brown-nosing your interviewer or lying. Sincerity can sometimes go a long way! So long as you communicate that you're planning on taking the role seriously, you should do just fine.
Q: What is your availability?
A: A great opportunity to kill two birds with one stone – you get an opportunity to talk about your interests parallel to your availability. So for example, if you take yoga or karate classes and aren't available for a couple of hours a week, you come across as someone who cares for their wellbeing, while also communicating a schedule. Do you have studies you need to attend during the day? Perhaps you'll be more suited for night/weekend shifts then. A great opportunity to also talk about the subject you're learning, and give an even broader picture of who you are as a person.
Q: In what way will you contribute to the team?
A: Of course, this answer is highly dependent on the individual. Are you finding it difficult to spot your personal strengths? Ask a friend or an ex-colleague you still keep in touch with. Another great way to answer this question is to tell a story. For example:
"Well, I actually talked about my strengths with an ex-colleague the other day when I was preparing my resume. It's always a little tough getting an honest perspective of yourself, so I needed the help. My friend Milda said she thought I was really funny and always cracked jokes at the right time. She reminded me of some situations where I saved the day with a joke because the chefs made a mistake and when I lifted her spirits one time when she was going through a tough personal time and it was affecting her work. I never thought of myself as someone who's that funny, but I guess it has its perks!"
Q: Tell me about a time you entered a restaurant and it was filthy. What was your reaction to it?
A: Your food and cleanliness standards will dramatically change once you shift from a customer to a restaurant employee. I personally call it "professional distortion". Trust me, you'll be able to spot a filthy restaurant from miles away. It also gives you an insight into how much restaurants really care about their customers.
To put it simply, if you want to work at Cracker Barrel, you should always look after the customers! So if you get asked this question at an interview, they want to know what you'd do if the restaurant was beginning to fill up with dirty dishes and there was food on the floor after a family of five had a huge lunch. Working in a dirty environment also has its health and safety risks – you can trip on some ketchup poured on the floor by a 2-year-old, for example. Make sure to let your interviewer know that you're aware of the takeaways that come from leaving a place looking like a mess and most importantly that you're willing to do something about it!
What Happens After The Interview?
You go home and treat yourself to a relaxing bath (or whatever your alternative of relaxing is). Congratulations – you've done the scary bit. Now all you have to do is wait to hear from Cracker Barrel. If you've followed our advice, they should call you in the next few days. But don't wait by the phone like a teenage girl in a 90s comedy series. Don't discourage yourself either – different places work in different ways. Once I was given the job right on the spot but some employers might have stricter hiring policies that don't allow them to make a commitment right after the interview even if they loved the candidate. Be patient, and even if you didn't get this one, think of it as a great practice to get the next one!
How about you? What's your experience been like with interviews? Have you ever applied for a job at Cracker Barrel? Was there any juicy bit of information we missed? Let us know in the comment section below!