Today we'll talk about a company that's so gigantic, so popular, and so well-established in its industry that it just became synonymous with the words "sports" and "sportswear." In fact, if you flip through the pages of the dictionary and come across those two words, you'll probably see no explanation – just the logo of that company and trust me, that'd be enough to understand.
I'm talking about Adidas, of course – the largest sportswear manufacturer in Europe, and the second largest in the world. For millions of people, however, Adidas is not just a company specializing in designing and manufacturing shoes, clothing, and various sporting accessories – it's a way of life! That's right – Adidas is not just selling you sportswear, they are selling you confidence, status, and a certain "it" image that differentiates you from everyone else. All the cool kids are wearing Adidas, all celebrities are collaborating with Adidas and all influencers are brand ambassadors of Adidas. No wonder everyone goes crazy when they see an Adidas store…
We're not here to talk about that, though. We're here to help everyone who wants to become part of the hardworking and diverse team of Adidas. We'll go through applications, interview questions, CVs and give you a helping hand on your way to nailing that job! After all, impossible is nothing!
Adidas Jobs
If you're a huge fan of the company and see yourself building a career there, there are plenty of jobs at Adidas to pick from. Retail, Marketing, Management, Loading & Stocking, Accounting, Arts & Entertainment, Customer Service & Sales are just some of the areas you can choose from. I mean, it's only natural – a multinational company with thousands of stores and subsidiaries needs a lot of employees in order to function successfully.
An important thing to mention here is that Adidas can become a great first job for people with little to no experience. Entry-level positions are available and welcoming young and enthusiastic people ready to take over the world.
What to expect from Adidas? Expect to thrive in a challenging and highly dynamic environment. Depending on the job you're interested in, of course, your working environment can be very different. One thing stays the same, though – be prepared to be surrounded by sports equipment, outfits, shoes, and meet people who will completely redefine your perception of exercise and healthy lifestyle.
Hiring Requirements
The standard hiring age for Adidas retail locations remains 18 years of age. To be considered for an entry-level position, you must possess a high school diploma or an equivalent. So far so good. If you've just graduated high school and are looking for a good first job, you should definitely check out Adidas.
Note that there's also going to be a background check prior to officially hiring you for the position.
Another requirement is filling out and submitting an online application. We'll talk more about this in a second.
Does Adidas Offer Benefits?
They do! Some employees are even saying that Adidas has one of the best benefits packages in the U.S. Employees also get to enjoy company holidays and time off. In fact, for those reasons alone, Adidas is surpassing an enormous amount of other companies. Let's see the list now!
Employee Discount
Paid time off
Tuition Reimbursement
Health Insurance
Dental Insurance
Visual Insurance
Retirement Plan
Parental Leave
401k Matching
Flexible Schedule
Casual Dress Code
Education / Training
Work-Life Integration
Rewards
Sports Activities
As you can see, they have the standard package of benefits plus so much more. What I was really impressed with was Adidas' Work-Life Integration Program. They offer teleworking, sabbaticals, parent/child offices, daycare facilities, and more, all in favor of achieving that work-life balance everyone's been dreaming of.
But wait, there's more! Unsurprisingly, Adidas is encouraging its employees to live a healthy lifestyle and be aligned with the brand's image and values. That's why if you become a member of the Adidas team, you can get free gym memberships with a personal trainer, great discounts on various sporting goodies, access to many sporting events, and so much more! This is absolutely fantastic!
Just by writing all that I can get a sense of how life-changing one's experience with Adidas can become.
Careers At Adidas
The entire Adidas Group employs over 53,000 people throughout 160 different countries in the world! Wow! Those are some big numbers. But what did we expect from a large-scale retailer that produces more than 660 million products every year?
As mentioned before, there are so many job areas you can choose from. From helping customers finding the right running shoes to running an entire district area as a district manager, the opportunities are pretty much endless. Not to mention the fun atmosphere and the great benefits!
Let's go through some of the career paths you can take at Adidas.
Adidas District Manager
The Adidas District Manager is responsible for overseeing all store operations and most importantly, making sure that all stores within the district are profitable.
The positing is dynamic, involves a lot of analyzing, reporting, presenting, and even travelling. You are going to collaborate with store managers, assistants, and even customers to come up with the best business plan for your area. But most importantly, you have to lead and inspire everyone!
The requirements for this position are, as you can imagine, a lot. But if you have a solid experience in fashion or retail management, this is going to be a great one for you!
Adidas District Manager Salary: $80,000 – $100,000 $ /year
Adidas Retail Store Sales Associate
The Adidas Retail Store Associate is responsible for providing superior customer service and helping customers not only with locating and trying products in the store but also with answering questions. You will have to stand most of the time, walk around the store, and communicate with customers so keep that in mind.
And, of course, there's the whole persuading customers and making that sale part. Having a positive attitude, satisfying every customer's need, and possessing persuasion skills will get you far!
Adidas Retail Store Sales Associate Salary: 9-10 $ / hour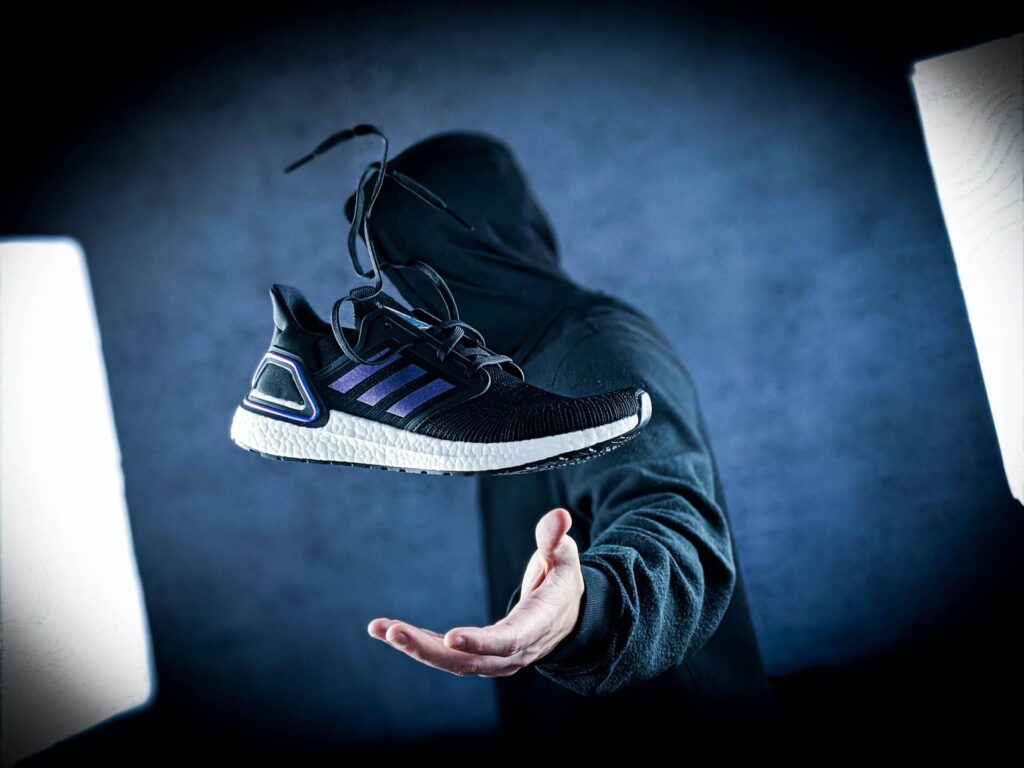 Adidas Footwear Designer
Of course there would be a team of designers bringing all the color and swag into the company's latest products.
The Adidas Footwear Designer has to continuously be aware of the latest trends and be able to generate brand relevant products. Designers should gather information from sporting events, athlete insights, fashion and sportswear magazines, blogs, store checks, market visits, etc. Not just that but the designers have to work closely with the Marketing department in order to come up with the latest "it" product!
It sounds great! Keep in mind that you need to back up your application with a University Degree in Graphic Design / 3D or a similar field and solid graphic design software knowledge.
Adidas Footwear Designer Salary: $60,755 – $103,690 / year
Adidas Application 2021
The Adidas Careers Page is the Gandalf to your Bilbo. Everything you need to know about your Adidas job application journey is there – available positions, locations, requirements, etc. I want to mention a couple of important things before going through the Adidas online application process step by step.
Whatever you do, just don't apply through social media or email. The only way your application will get to the hiring managers of Adidas is through the official careers website.
Don't submit a generic application you think will land you "any job," as long as it's a job and it's at Adidas. Remember, the application is your business card – it's what makes you stand out from the crowd. Target your resume and cover letter to Adidas and the desired job.
Adidas Online Job Application
Go here
Filter the list of current job openings by country, city, region, position, etc.
Pick a desired position and carefully go through the description and job requirements listed. Once you're done click the "Apply Now" button and log in with an existing account or just create a new one.
Upload your resume, cover letter, or any other relevant document you want the hiring managers to see.
Complete your profile by adding information such as first name, last name, current title, current company, phone number, etc.
There are seven job-specific fields you should complete before hitting that "Send Your Application" button. Those include:
– Job-specific information
– External work experience
– Education
– Languages
– Mobility
– Skills
– Career interests
Finish the process by sending your application.
As you can see, it's not rocket science. Adidas is a modern-day company utilizing a quick and easy modern-day online job application system – use it to your advantage. No pdf files to download and print, no pen ink smudges on your paper application – life is good!
Do You Need A Resume For Adidas?
Yes you do! Don't rely on that "optional" sign. In fact, when it comes to job applications there's no such thing as "optional" and you can trust me on that. It's that extra step you do that makes you stand out from the crowd. It's that "optional" thing that will get you your dream job. So, to sum things up, prepare a resume for your Adidas online application. If you have the time, you can even go for a motivational letter.
Let's go through a few really good resumes you can use for your Adidas job application.
This is a great resume for those interested in becoming one of the district managers of Adidas. It has all the right components and plenty of space and sections to fill out with relevant experience. There's a little something extra too – icons, a bit of color, and eye-pleasing format.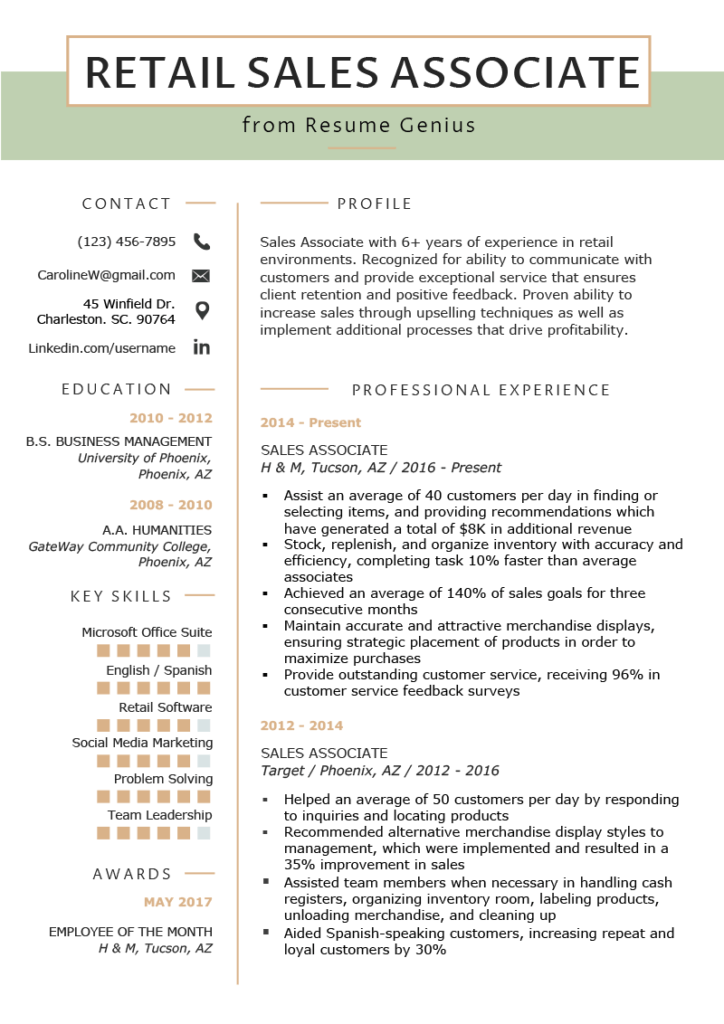 This is a more edgy resume template for those who want to leave a lasting impression. It has some color, cool icons, skill level charts, and plenty of space to list your previous experiences. The vibe I'm getting from this CV is pretty positive and that's exactly the vibe your customers should get from you one day if you become a store associate. Always match your CV with the position you're interested in!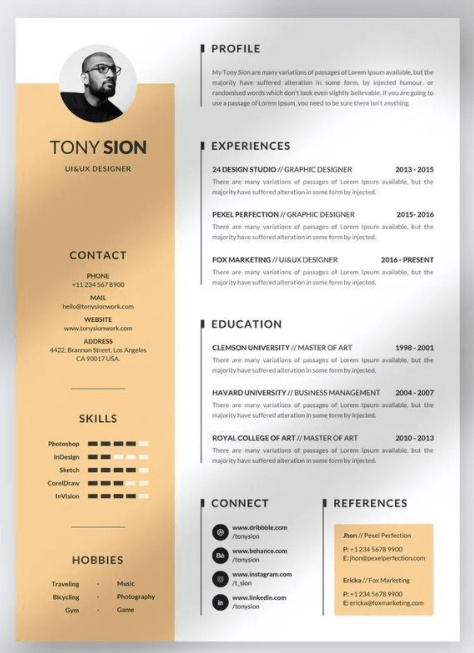 Honesty hour – this is a random image of a CV from Pinterest. Why? Because if you want to be a footwear or clothing designer at Adidas, "Creativity" should be your middle name and you should have perfect Photoshop skills. So, basically, create your own CV – that's what I was getting at. Demonstrate your Photoshop or 3D skills with a mindblowing CV and don't rely on free Internet templates.
Adidas Interview
So, we're back to the "How to get a job at Adidas?" question. Let's talk about a few dos and don'ts before we move on to the actual interview questions.
Let me get this out of the way first. Whatever you do, please don't show up for your Adidas interview with a Nike T-shirt, or even worse – a Puma T-shirt! And please, don't dress from head to toe with Adidas merch. They won't give you the job just because you spent your money on their products. Just dress comfortably. It's that simple.
What to expect from your interview? Well, I've heard that the hiring managers are very understanding and super cool so don't worry about it. Just be yourself. Yeah, I know that's the biggest cliche in the history of cliches but it's true. Sometimes we get so nervous during a job interview that we start making up stupid stories and fail to mention the really important things.
Of course, you should also come prepared. Research industry trends and prepare insightful questions. Knowing one or two fun facts about Adidas won't hurt either. In fact, it's absolutely mandatory, if you ask me, to do proper company research before the interview. Those facts are going to be your secret weapon!
Use These Adidas Fun Facts To Help You Land The Job:
Brothers Adi Dassler and Rudolf were working together at the family company but couldn't really get along. The company was split in the late 1940s and Adolf created Adidas, while Rudolf established Puma – one of Adidas' biggest business rivals.
Karhu – a Finnish shoe brand sold the three stripes trademark logo to Adidas for two bottles of whiskey and €1600.
Adilette, the first-ever shower shoes, were introduced in the 1970s and remain popular and widely-used till today.
David Beckham has a lifetime endorsement deal worth $160.8 million.
I had no idea about the whole Adidas/Puma rivalry and the history behind it! You learn new things every day. Of course, if you're a fan of the company you should know that story very well.
Be careful with the Puma jokes. The Adidas hiring managers might be cool and fun but they won't hire you if you show up with Puma sneakers.
Adidas Interview Questions
Q: Why do you want to work at Adidas?
A: I can't really answer that question for you but I will tell you one thing – honesty will get you far. Whatever your reason is, don't be afraid to share it with the hiring manager. Maybe you've been a fan of the brand since you were a kid or maybe you are impressed with the company's immense contribution to sports and healthy living – it really doesn't matter as long as it's personal and sincere. One more thing – flattery will get you nowhere. "Adidas is one of the most famous brands in the whole world and you guys are the best and I want to work with you." – that's such a boring answer. Don't be that person, please.
Q: What are your top 3 strengths?
A: Nobody likes this question but there's nothing we can do about it except try to answer it as best as possible. When people ask me about the "top 3 strengths" question, I always give the same advice – one personal and two professional strengths.
"I've been following the brand for years and am well aware of all its products, endorsements, and healthy living campaigns" and "I've worked as a fashion store assistant and that experience helped me build exceptional listening and communication skills" are great Adidas-specific professional strengths examples. For your personal strength, say that you're punctual, tend to avoid conflict, make friends easily, etc.
Q: What are your top 3 weaknesses?
A: The key here is to tell the hiring manager something they've never heard of. Believe me, a generic "I'm a robotoholic and I often stay up late working" is not a weakness. Think of something better. Go back to the job description. Is there a requirement you are not really covering? For instance, say that you still need to work on mastering that tool they're using. Mention a personal weakness as well – you pay too much attention to what other people are saying or you need to improve your listening skills. Are you working on fixing those weaknesses? Let them know!
Q: Why should we hire you?
A: Here, you just have to convince them how awesome you are! They called you in for an interview, didn't they? That means they loved your CV and wanted to meet you. Now, you just have to paint a bigger picture, using specific examples and persuasion tactics. Go through the job ad and the requirements listed there. Start by saying how you're meeting all of them – you have a Bachelor's Degree, a significant experience in the industry, etc. Then, move on to the personal stuff – tell them how passionate you are about the company, how you see yourself building a career here, how you won't leave in 6 months because this is a long-term career goal for you, etc.
Finish with a quick joke. Say something like "I love experimenting with healthy vegan food so if you hire me, I will bring vegan cookies and deserts to the office all the time."
Q: Where do you see yourself in 5 years?
A: Again, be honest. If Adidas is your dream company, tell them that you see yourself as a Regional Manager or a Store Manager, or any upper-level position you're interested in. If you're currently studying, make sure you incorporate your degree (or courses) into the answer. For example, you could say something like "I'm currently taking courses in advanced business accounting and once I've completed my course, I would like to see myself as one of Adidas' accountants" or "I love social media and I keep up with all the trends so one day I would love to be part of Adidas' social media team." Make sure the hiring managers understand that the job you're applying for will definitely help you with your 5-year career plan.
Q: Tell me about a time you failed.
A: Time to get real! You surely have a story to tell. If you can't think of anything that happened to you personally, spin things around – talk about a time when your team failed, or the company you worked for had to close down. How did it make you feel? What changed after that? Whatever you say, don't tell them that you can't think of such a story. You're not that perfect – none of us are. Be humble and honest.
Maybe once you said something inappropriate during a company meeting, or you missed a deadline and that ruined some numbers, or you couldn't answer a question by one of the company partners after a presentation and you got embarrassed. These are all things that happened to me, actually. I really hope you don't have that many stories to tell…
Q: Why do you want to leave your previous job?
A: This is a question targeted towards interviewees who are currently working for another company. I trust you won't answer by saying something like "My boss sucks and I hate him and he's stupid." Please don't talk trash about your company, your boss or your coworkers. There are diplomatic ways of expressing your disappointment.
For instance, you can say that the environment was too competitive and you couldn't thrive in such a "jungle." Another thing you can say is that you're simply looking for a company that will offer you opportunities for career advancement and that your current employer can't really offer you that.
Again, criticizing and throwing shade at your current boss or company won't get you anywhere.
Q: Tell me about a time when you actively sought out feedback?
A: Let me paraphrase this question for you – "How well do you accept criticism?" Again, open that work diary and go back to a time when you weren't so confident in your abilities. Maybe your presentation was not looking professional enough or your product designs were missing something and you asked another designer to help you out. Did you agree with their feedback? Did you change your designs because another person told you they weren't that good?

Again, make sure the hiring managers don't see you as a "lone wolf." They want to know how well you work with other people and how open you are to new ideas and criticism.
What Happens After The Interview?
The waiting game begins! Go home and take a well-deserved nap. Don't think about the interview anymore. There's no point in going back and analyzing whether you gave the best answers or not. Shake things off! What's done, is done! Besides, I'm sure you did phenomenally!
In a matter of days you will get a call back. Adidas is not one of those companies that prolongs things and disappears without any update or notice. Till then, sit back, relax and enjoy life!
Do you have any experience with Adidas? Have you ever been to an interview with an Adidas hiring manager? If so, let me know how it went!