Walmart is one of the giants of the retail world, with over 10,500 stores spread around in 24 countries and a solid eCommerce presence. As a result, the brand employs more than 2.3 million associates all over the world and creates amazing opportunities for both beginner and seasoned workers.
Walmart Jobs
Most Walmart careers are built around customer service and your ability to stay organized and helpful. In addition, there is room for growth as long as you are interested in taking on more responsibility and you prove your worth.
According to Walmart's official website, their company culture is based on four values
Service to the Customer
Respect for the Individual
Strive for Excellence
Act with Integrity
Now, based on real employees' experiences, the job opportunities and experiences offered at Walmart are pretty similar to those of other big retail stores. The overall pace is fast and you will be busy and even get stressed during extremely crowded periods like the special holidays, for example. Still, the pay is decent (they aim for the average amount per hour) and they are flexible.
Hiring Requirements
The minimum age requirement for Walmart employees is 16 years old and you need to be a citizen or eligible to work in the country where you submit your job application. If you are considered for employment, they will perform a background check but there is no mandatory drug screening (unless there is a strong reason for it).
If, for example, you apply at Walmart in the US, here are the basic requirements:

Two forms of identification (with photo) – driver's license, passport, state ID card, or military ID
Social security card and number
I-9 tax form completed (usually provided during orientation)
High school diploma or another type of education diploma (if applicable)
Some form of lateral experience (if you apply for a more advanced position)
Does Walmart Offer Benefits?
Walmart offers the standard benefits (for big retail brands at least) such as health insurance, a 401(k) plan, access to counseling, paid time off, the right to take personal days, and education opportunities.
In short, eligible Walmart employees (both full-time and part-time) can receive benefits such as:

A 401(k) plan with a 6% match
Health insurance
10% discount in Walmart stores
Coverage for domestic partners
Free access to counseling via Resources for Living
Various types of insurance such as life, disabilities, travel, and so on
Up to 10 weeks of protected paid maternity leave
Due to their flexibility, Walmart is also a great place for people who can't follow a regular 9-to-5 schedule like students or parents.
Careers At Walmart
Walmart is a team-based operation, so they want to make sure all their employees are at their best level. For this, they offer various training systems and support for the people who want to improve and take more responsibilities (aka climb the ladder). As a result, it is not uncommon to start in a low-level job (like a stocker or a cashier) and move on to more advanced positions that make better use of your skills.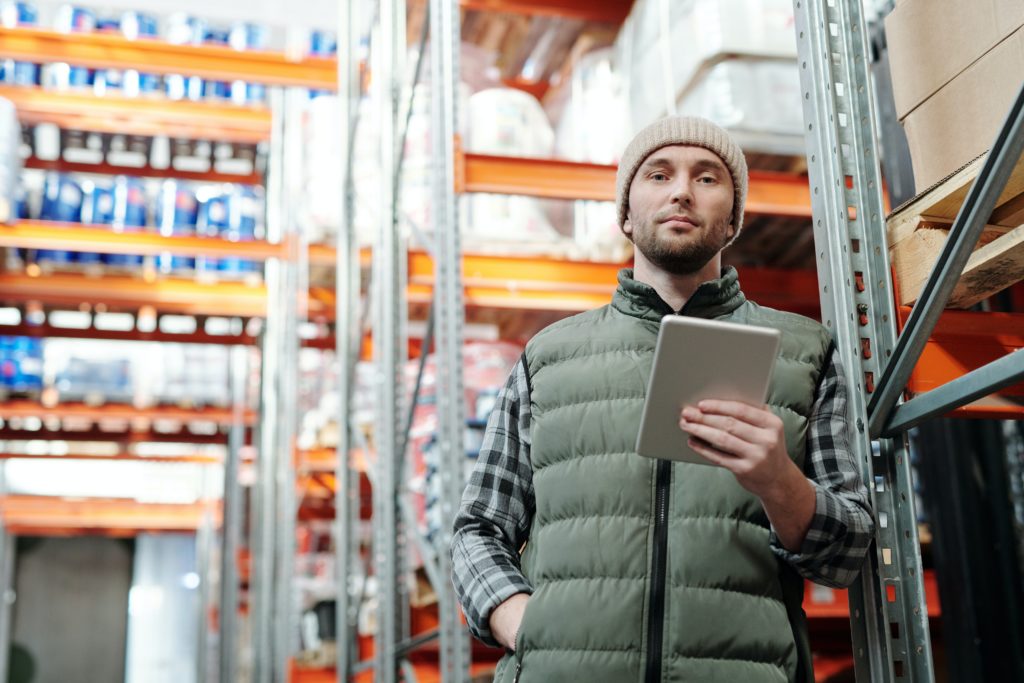 Walmart Store Manager
The Walmart store manager is a high-responsibility job with a focus on store management and administration, team leadership, and customer service. As a store manager, in general, it is your job to make sure company regulations are being followed and the store turns a profit.
Walmart Manager Salary: $100k+ /year
Walmart Assistant Manager
The Walmart assistant store manager position requires you to play a supportive role for the store manager in carrying out scheduling, planning, and merchandising duties (among others).
Walmart Assistant Manager Salary: $40,000 /year
Walmart Sales Associate
The Walmart associate position is considered low-level and focuses mostly on customer service and teamwork. You will also be asked to help with stocking and merchandise, but your main focus will be on delivering a positive customer experience.
Walmart Example Pay: $12 /hour
Walmart Cashier
This is a low-level position and your main tasks are related to the customer checkout process. You need to be friendly and customer service and detail-oriented.
Walmart Example Pay: $12 /hour
Walmart Pharmacy Technician
Handle OTC orders, provide excellent customer service, restock and organize the shelves, fill prescriptions, and other similar tasks.
Walmart Example Pay: $15 /hour
Walmart Application 2021
Walmart accepts both online and in-person job applications, but in this day and age, it's best to use the Walmart online application system as it's well-structured and allows you to create a thorough career profile by using their 6-step approach.
The brand promotes their available positions on their main website and through various online platforms and other local media outlets. If you choose to apply online, you need to create an account on their platform (with email & password) and complete a career profile with detailed information about your availability, employment history, education, and other inquiries.
Overall, the Walmart job application online system is pretty straightforward and most people who know how to use the Internet can use it. Still, if you want to do it in person, you can fill a Walmart application form (usually available at info points in stores).
Do You Need A Resume For Walmart?
If you're applying for a low-level position, you are not required to submit a CV (whether it's an online or in-person application). Still, a well-designed resume is fully appreciated, especially since the interviewers don't have a lot of information to go on from the start (they are not the ones who select the interviewees). Therefore, even if you don't submit a CV with your job application, it is good practice to have at least two or three copies with you, on the day of the interview.
Below, you can find several CV designs that you can use to make your application more noticeable.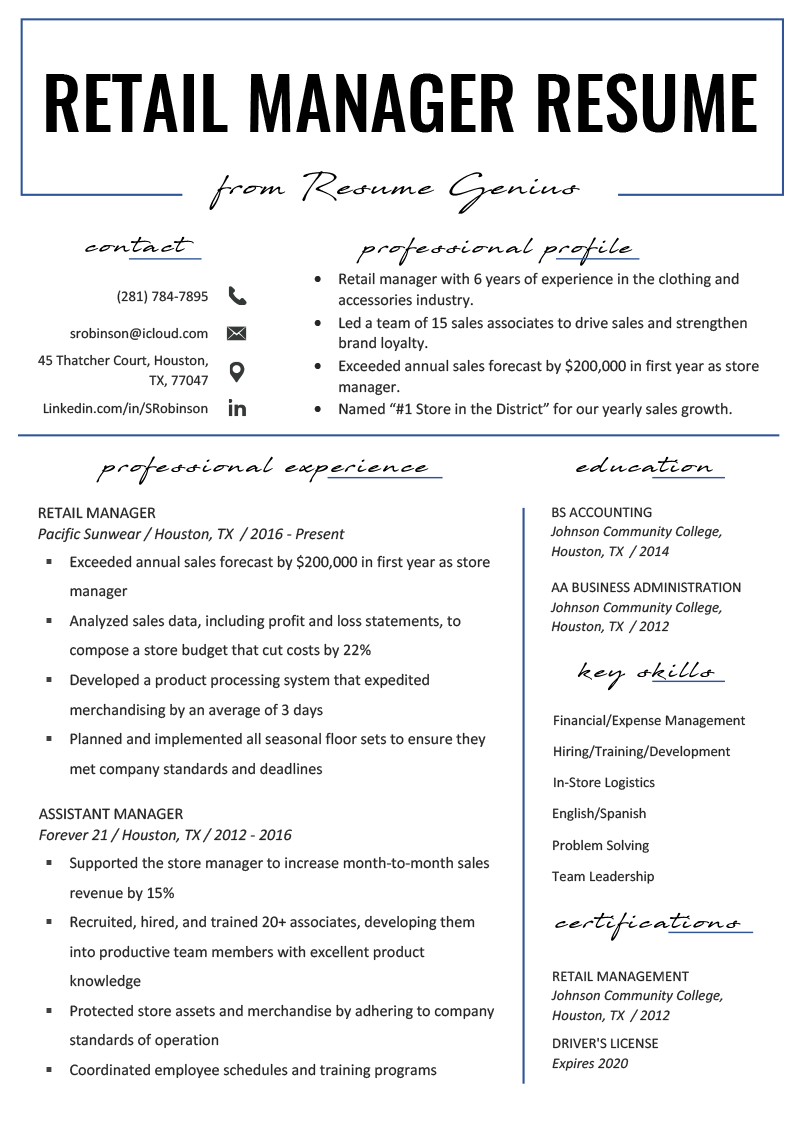 A well-organized template that focuses on previous work experiences and education. It also clearly highlights the skills that make the applicant perfect for such an advanced position.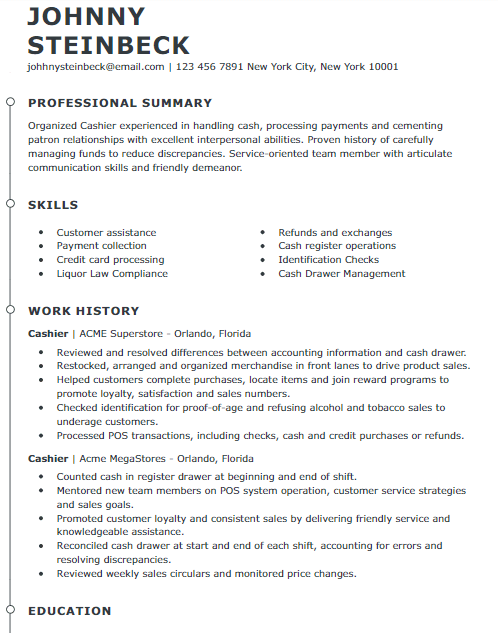 This template is built around the skills that make you perfect for the job and the previous work experience that prepared you for the job. It's also well-organized and easy to read, which shows attention to detail (a must for this position)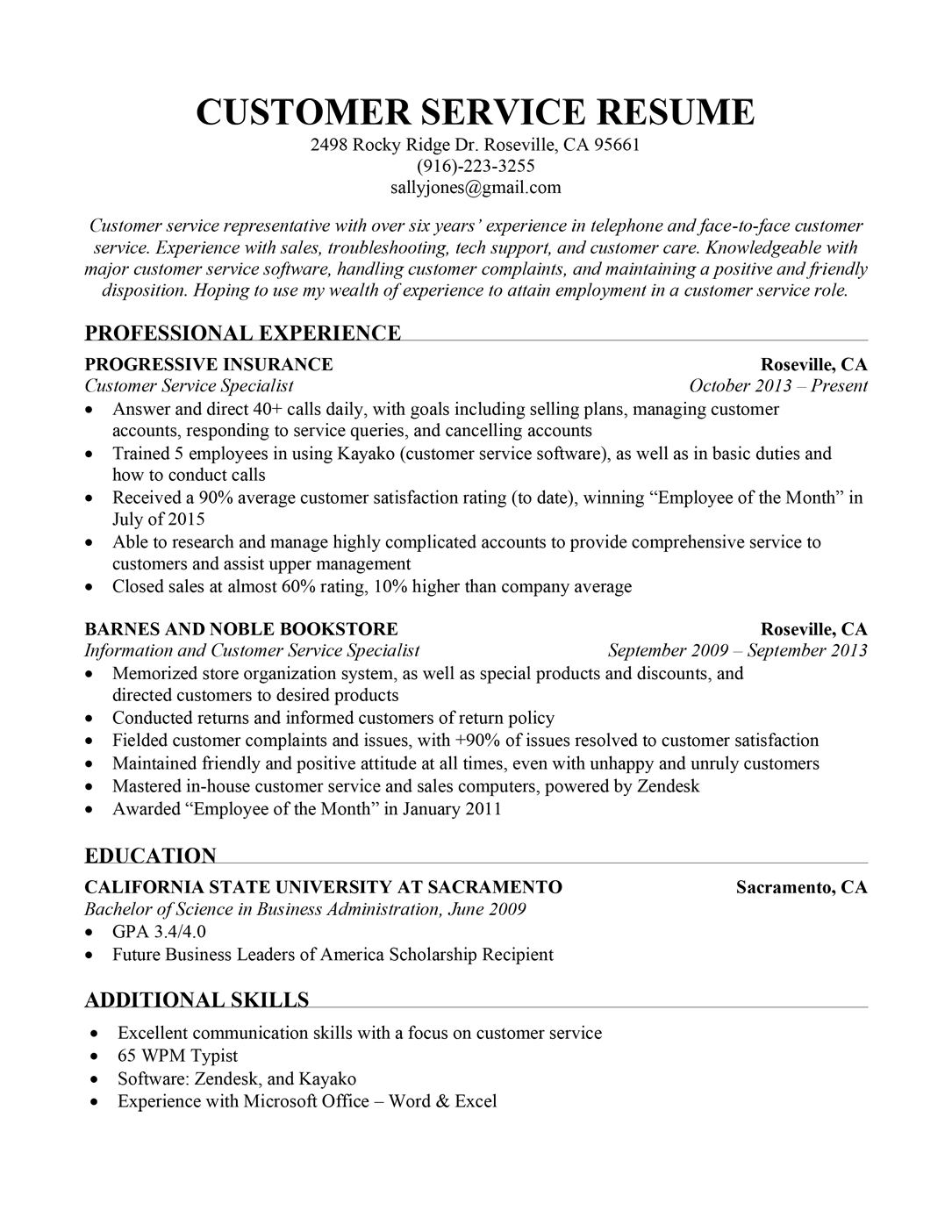 Focused on work history and skills, this CV template is ideal for experienced candidates with a solid grasp of customer service and teamwork. In addition, you can also use the template to showcase any projects or volunteer work that prepared you for the position.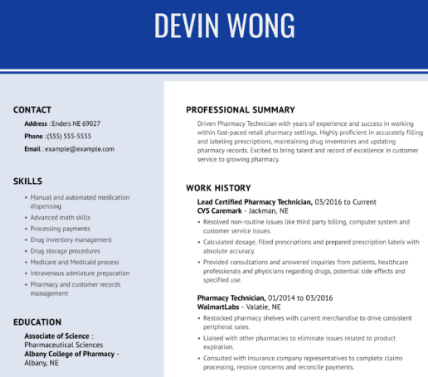 With this resume template, it's easy to see skills, education, and work history in a quick glance, which makes an interviewer's job a lot easier.
Walmart Interview
The Walmart interview is pretty straightforward, but before you get to this step, you will be required to take an online Assessment Test. This is a multiple-choice test (around 65 questions) that allows them to assess your current skills and interests before the in-person meeting. It's also a way for you to get an idea of the things that matter in order to become a part of the Walmart team.
Quick tip: answer questions like "Being on time to work is important" with Strongly Agree to show you are decisive and determined.
At the interview, make yourself presentable. This means wearing a business-casual outfit (pressed pants, slacks, or an office skirt with a button-down shirt with collar) for low-level jobs and a business professional outfit for supervising or management positions. A well-groomed appearance is also important, so pay attention to all the necessary details.
How to get a job at Walmart from the first interview?
The interview should take about 20 to 30 minutes and you should have a friendly but professional demeanor. Moreover, you should be prepared to face more than one interviewer (there are situations when you get to discuss with three interviewers at the same time).
However, for low-level positions, the first interview is also the decisive one. In any case, you should have an answer in about 7 days.
Walmart Interview Questions
We have prepared a list of Walmart interview questions and sample answers you can refer to when preparing for your upcoming interview. Don't forget to showcase your personality and experience in your answers whenever possible.
Q: If you were told that you need to work as quickly as possible, how do you make sure that the quality of your work doesn't suffer?
A: Whenever I'm pressured by time, I find that staying calm and working methodically helps keep the flow going. Also, I like to base my work on standard procedures, which are put in place to make sure the overall quality doesn't suffer.
Keep in mind that the Walmart workspace is a fast-paced environment with plenty of tight deadlines and things that need to be done as quickly as possible. Therefore, it is important to hold your composure under pressure and adhere to standard processes.
Q: Why do you want to work for Walmart?
A: I consider this to be a great opportunity for launching my career in retail, especially since the company is supporting employees' quest for improvement and advancement. My goal is to learn and get first-hand experience with stellar customer service while being part of a solid and reliable team.
Q: How would you define customer service?
A: I like to think that customer service is the support a company provides their customers before and after they bought the product or used the service.
Q: Can you describe a time you went above and beyond in the name of customer service?
A: At a previous job, we had a few customers with very specific requirements for their orders, regardless of the time of day or how busy we were. This made a few of my colleagues feel frustrated, but I decided to go the extra mile and make sure all their requirements were met. To learn more, I asked them how they'd like each step of the order to be completed and why this is important to them. In the end, they were extremely happy and made sure to come around whenever my shift came up.
Your answer doesn't have to be exactly like this (especially if you have no job experience), but it needs to highlight your willingness to listen and pay attention.
Q: How do you typically feel in your daily job?
A: I enjoy having a busy schedule that allows me to feel useful and productive at the end of the workday. I'm also the happiest in a position where I feel like I can learn new things and improve.
Q: What would you do if you saw a coworker steal a quarter from the cash register?
A: I don't condone stealing in any shape or form, but I would first tell them they've been seen and give them a chance to come clean to their supervisor before I take this step. If they are conflictual or deny the fact, I would go to the supervisor and inform them of the situation.
Q: If a product rang up at the wrong price, what would you do?
A: I would inform the customer of the situation and ask them if they are still interested in making the purchase. If they don't want it at the new price, I would look for alternative products with a similar design and price as the initial one to make sure they are satisfied with our customer service.
Q: What would you do if you spotted a damaged product on the shelf? What about products that appear to be tampered with?
A: Inform the colleagues in charge of that store section or the manager about the situation.
Q: What would you do if a customer became hostile?
A: I am aware that this sort of situation is possible when working with customers, which is why I always try to keep my calm and deal with a conflictual situation in a polite, respectful manner. In my experience, most angry customers feel unheard or uncared for, which is why I will do my best to listen to their complaints and offer solutions. If it's out of my reach in the store, I will ask a supervisor or manager to intervene.
It's important to keep in mind that Walmart customers are not overly hostile (although many media outlets like to push this image). It's just so that this type of situation happens in the retail environment and you should be prepared to deal with it.
Q: Can you tell us something about your customer service experience?
A: Summarize your overall customer service experience and focus on the areas that most prepared you for the position you're applying for. Walmart interviewers look for people who can quickly identify customers' needs and then help them discover the right product(s) or alternatives.
Q: What can you bring to our team? Why should we hire you?
A: Walmart strongly focuses on the idea of teamwork and community, and they will select people who can make the team stronger through their skills and work experience. In this case, talk about your problem-solving skills (it helps if you have real-life stories to prove them) and your teamwork capabilities.
Q: Would you mind working late in the evening?
A: This may seem like a simple yes/no question, but it's best to elaborate (briefly) on your answer.
What Happens After The Interview?
It usually takes around seven days to learn if you passed the interview. In case the answer is negative, don't be discouraged. Walmart encourages candidates to re-apply for the same position or a different one, so there is still a chance you will do better at the next interview. If the answer is positive, you will go through orientation and then you'll start working.
In summary, the Walmart hiring process is straightforward and easy to understand. They accept both online and in-person applications, there is an Assessment Test, and then you go through with the interview(s).