The Starbucks Coffee Company (or, in short, Starbucks) is one of the most successful companies in the world, and not just in the coffee and tea industry. The brand and logo are extremely recognizable wherever you go in the world, and the company is famous for their wide range of products (does pumpkin spice latte ring a bell?), and the experience they've built around drinking coffee or tea.
Now, the company doesn't just focus on creating an unforgettable and maybe addictive experience for their customers. They're also working hard to help their employees feel happy and accepted. After all, with 31.8K stores worldwide and over 349,000 employees (as of September 2020), Starbucks is one of the largest employers out there.
Starbucks Jobs
Given the sheer magnitude of the company and its wide range of products, it's easy to understand that there is a wide range of jobs at Starbucks going from baristas to store/district managers. Therefore, if you are determined and enjoy the environment, there is plenty of room for growth. In short, Starbucks careers are open to anyone who is serious about their work.
In addition, you have the chance to join a diverse team and connect with people from different backgrounds. Still, it's important to know that the rhythm is fast-paced and you are encouraged to keep a friendly attitude towards customers regardless of how hectic things may get.
So, if you're a people person and like to be part of an energetic team focused on goal achievement and customer satisfaction, working at Starbucks may be a great move for your career. Not to mention that they recently decided to raise wages by at least 10% for baristas, shift supervisors, and cafe attendants.
Hiring Requirements
To become a Starbucks employee, you must be 16 years old and have the legal right to work in the country or state you are applying. For entry-level jobs, such as barista, they don't require experience and provide on-the-job training, which can be pretty intense.
If your application is considered for hiring, they will run a standard background check (drugs and criminal) based on your social security number and then present you with an offer. Once the contract is signed, you will start working according to the agreed-upon schedule.
Now, if you are applying for a management job, they will require a certain level of experience in the service industry. Still, in most cases, the company is happy to promote their own workers to a management position as long as they have excellent organizational and interpersonal skills.
Does Starbucks Offer Benefits?
Starbucks does offer employment benefits for employees who work 20 hours or more per week. Here's what's included:
Discounts on snacks and drinks for employees during shifts
Free coffee drinks for employees (dependent on locations)
Tuition assistance (for student workers)
Vacations, paid time off, sick leave, and other personal days
401(k) plans with matching
Discounted stock purchase plans
Full healthcare coverage for eligible US workers (vision, dental, and medical insurance)
Limited life insurance
In addition, Starbucks is one of the companies that offered emergency pay for staff impacted by the COVID-19 pandemic. They also provided hardship grants and other temporary support packages for workers who were financially affected by the pandemic.
Careers At Starbucks
Starbucks is truly a company where you can start low and climb your way to the top. In fact, the company favors its own employees for management positions. Therefore, as long as you are determined to work hard and focus on connecting with customers and coworkers, your path to success stays wide open.
Below are some of the most common and sought out Starbucks careers that are available at an international level.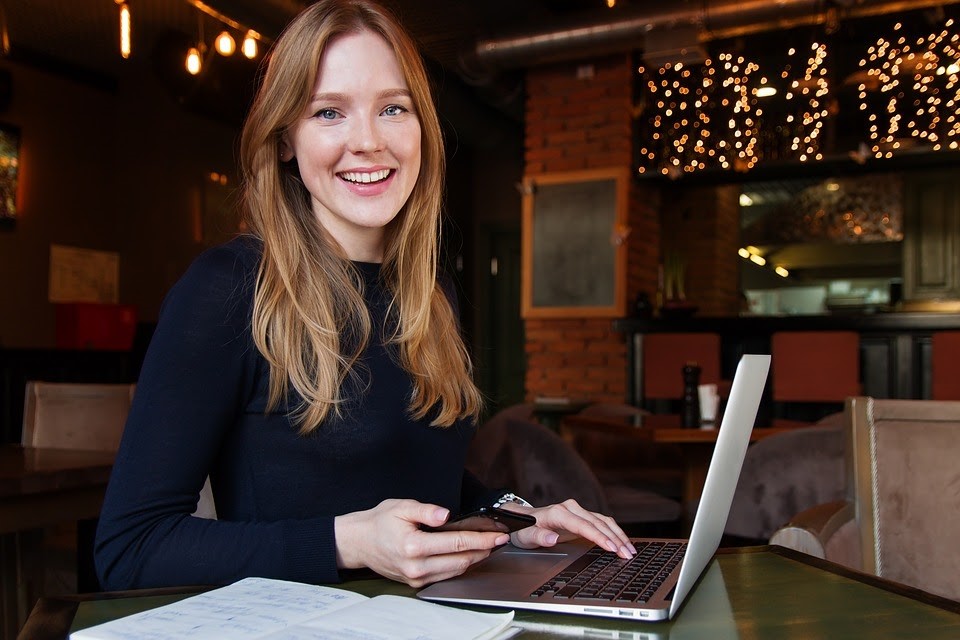 Starbucks Manager
A Starbucks store manager organizes employees and promotes sales initiatives. They are also in charge of making sure corporate standards are implemented correctly and maintain communication with regional and corporate offices. Additionally, the store manager helps with daily operations such as serving customers on very busy days.
Starbucks Manager Salary: $25k- $60k per year
Starbucks Assistant Manager
A Starbucks assistant store manager assists the manager in leading the business while also learning how to be a reliable leader themselves.
Starbucks Assistant Manager Salary: $19k – $55k per year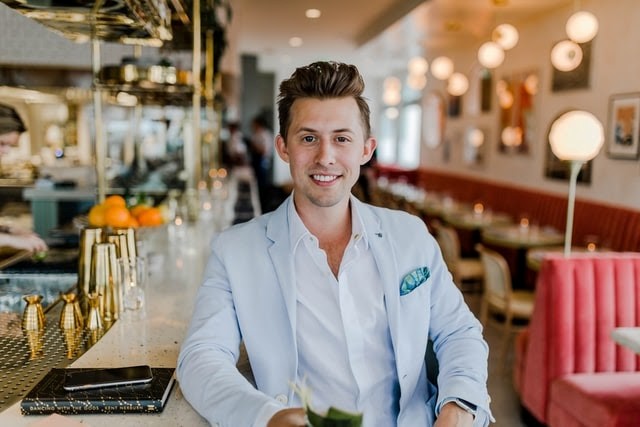 Starbucks Shift Manager
Assisting the store manager and the team in executing store operations during scheduled shifts.
Starbucks Shift Manager Pay: $10 – $13 per hour
Starbucks Shift Supervisor
Assists the store manager and oversees the employees while also making sure all communication standards with customers are respected.
Starbucks Shift Supervisor Pay: Starting at $14 per hour
Starbucks Barista
Prepare food and/or beverages and keep the workspace clean. Baristas are also the one to come in direct contact with customers (as they serve them), so must be able to keep a positive attitude under pressure.
Starbucks Barista Pay: $9 – $11 per hour (plus tips at most locations)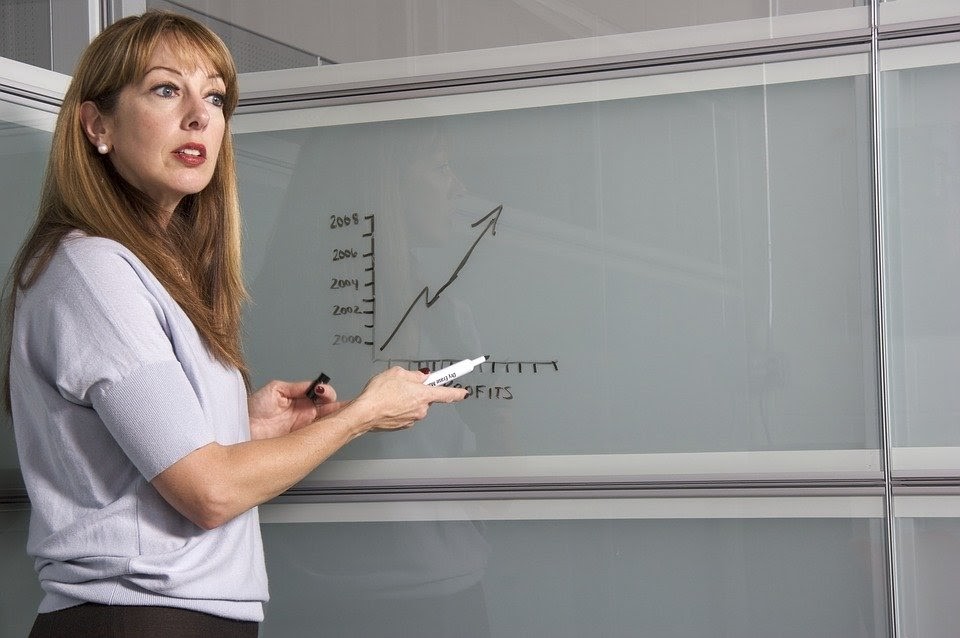 Starbucks District Manager
Among others, the Starbucks District Manager oversees a portfolio of stores and helps train store managers. The district manager is also in charge of planning strategies and makes sure all the steps are well-implemented.
Starbucks District Manager Salary: $45k – $79k per year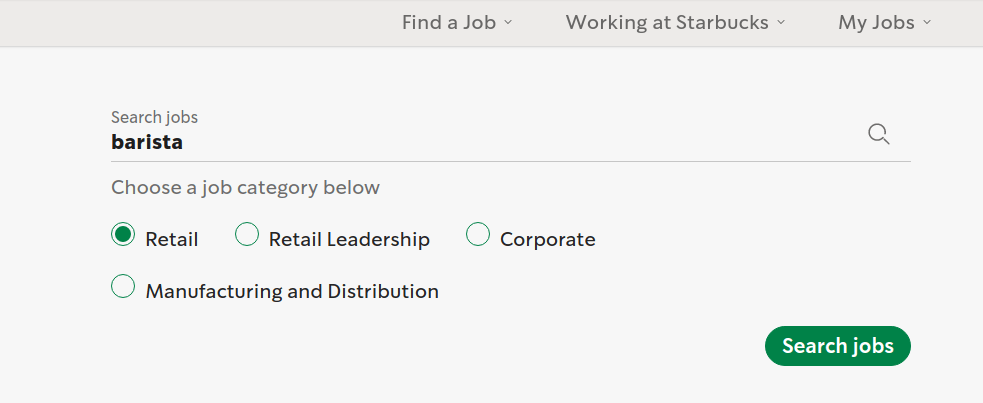 Starbucks Application 2021
The Starbucks job application process is rather simple. You just have to create an online profile (on their site) and search for available positions in your area. Once you've created a profile, you'll be able to submit a Starbucks online application and even set up job alerts for the positions that pique your interest.
In addition, you can submit a Starbucks online application via LinkedIn (where you can also set job alerts) or via other online job platforms.
While you can still submit a Starbucks job application in person, on paper, in the store you want to work, the company encourages online applications.
Lastly, one person can apply for multiple jobs.
Do You Need A Resume For Starbucks?
Even if you applied online, it's a good idea to go to the interview with a printed resume. It shows you planned ahead and you are organized enough to put together a well-designed CV.
Below you can find a few templates for the most common Starbucks positions: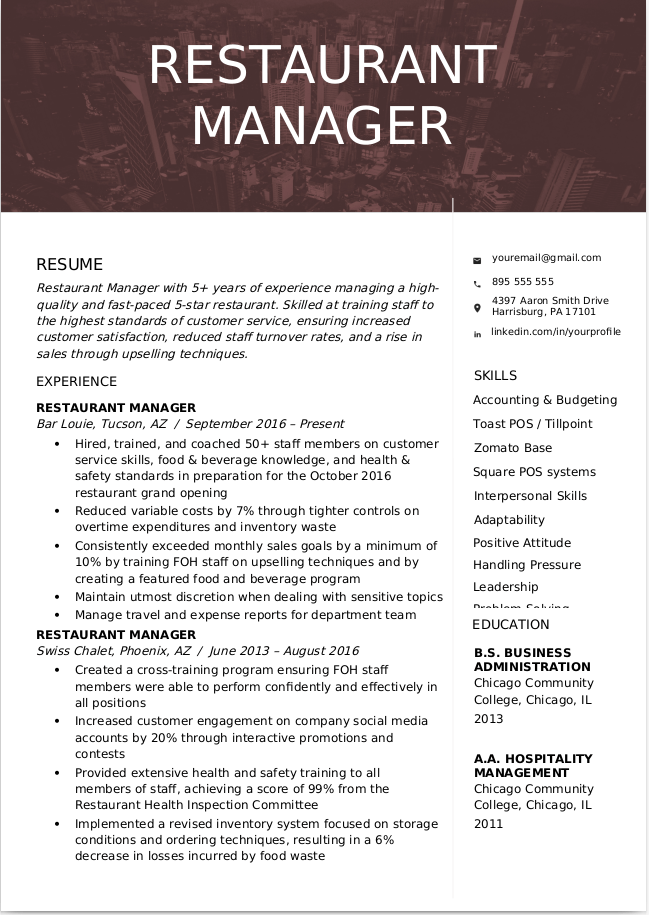 As a Starbucks manager, you need to highlight your people and organizational skills.
Also, add your experience in a similar position and your education (especially if you took any management training courses or programs).
The resume needs to be well-organized and easy to browse in order to make a solid first impression before the interview even starts.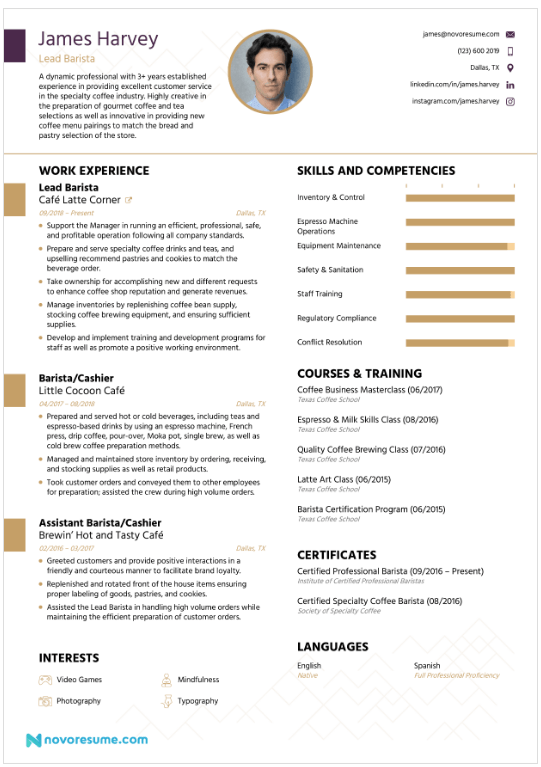 As a barista, you will constantly be in contact with the customers, so it's crucial to send a friendly and open vibe to the interviewer.
While Starbucks doesn't ask for experience (for low-level positions), make sure to highlight any similar positions.
It also helps to add any volunteer work you've done and team projects to show you are a people person focused on offering customers a good atmosphere.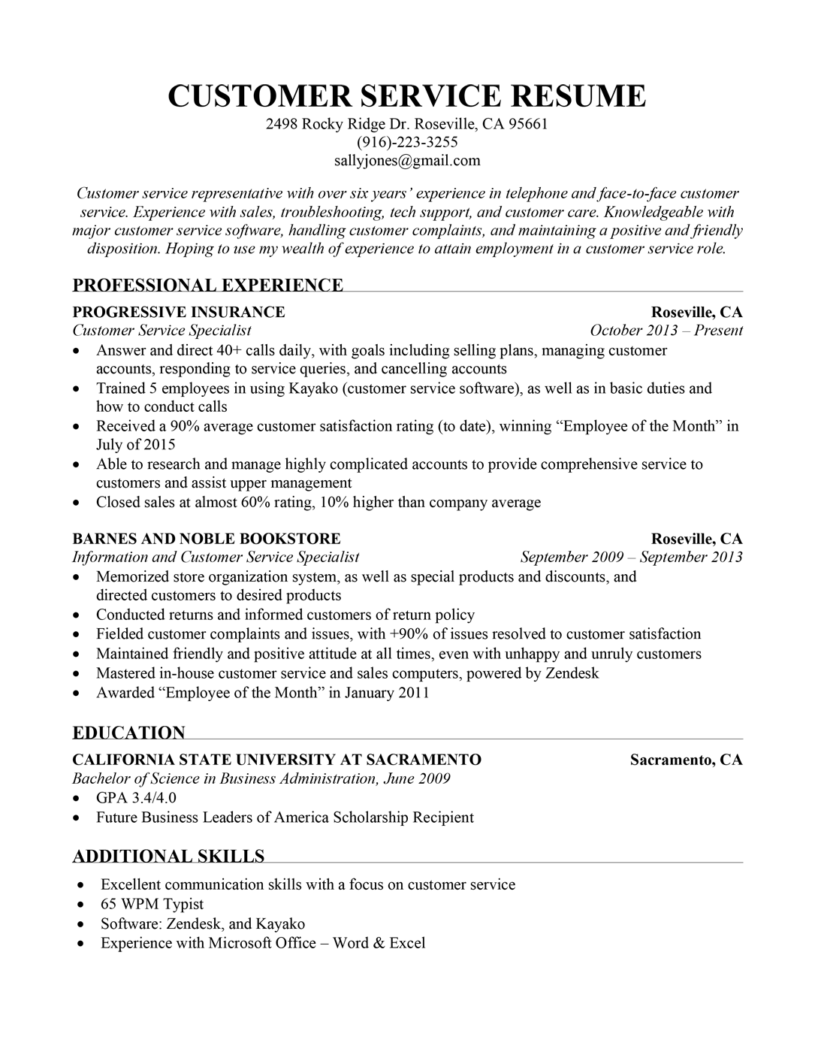 As a barista, you will constantly be in contact with the customers, so it's crucial to send a friendly and open vibe to the interviewer.
While Starbucks doesn't ask for experience (for low-level positions), make sure to highlight any similar positions.
It also helps to add any volunteer work you've done and team projects to show you are a people person focused on offering customers a good atmosphere.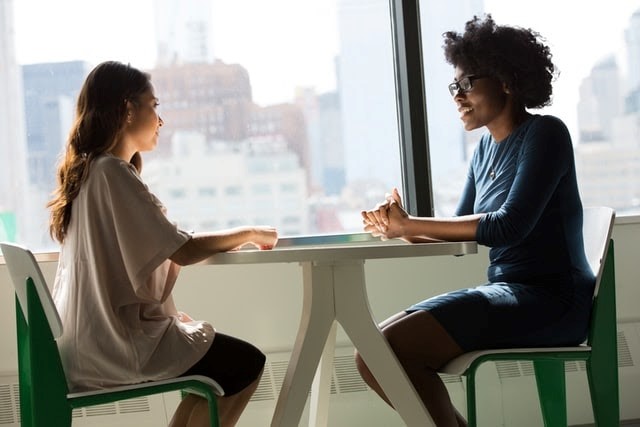 Starbucks Interview
Hiring interviews at Starbucks are pretty standard, so it's a good idea to prepare a bit before the big day. Read about the company, its mission and values, its social projects (the brand is involved in several such actions all over the world), its care for the environment, and more. This type of knowledge will help you stand out as a reliable and curious person.
It also helps to Google their latest mention in news – you'll get fresh details on their current social activities. Here are a few examples:
In October 2020, Starbucks announced the rollout of $1.5 million in Neighborhood Grants from The Starbucks Foundation in order to uplift organizations led by and that serve Black communities across the US.
The brand offered free coffee for front-line responders during December 2020.
Starbucks is committed to inclusion, accessibility, and diversity. As a way to show this, they opened several Signing Stores for Deaf and hard of hearing people.
In addition, you can add a few little known facts for people outside the Starbucks network such as:
Customers can order two drink sizes that aren't actually on the menu: "short" drinks, which are 8 oz and usually used as "kid-size" and Trenta, which is 31 oz but can only be made for cold drinks
The top 3 countries with the most Starbucks stores are the US, China, and Canada.
Also, make sure to learn a bit about coffee and tea – after all, these two beverages are at the core of the brand.
Lastly, the in-person interview is also about visual appearance, so it's important to dress appropriately and exude confidence (without being arrogant). The dress code is leaning more on the formal side, with button-down shirts and conservative tops. You should look presentable without being too stiff, so make sure you are well-groomed and happy to see your interviewer.
And now that you know more about how to get a job at Starbucks, let's go over some of the most common Starbucks interview questions.
Starbucks Interview Questions
Q: How would you handle a customer who claims their drink order is wrong?
A: Starbucks employees will, occasionally, have to deal with difficult customers. However, it's important to keep in mind that their culture is about customer satisfaction and positive experiences, so these situations need to be handled with a degree of finesse and respect for the customer.
To answer this question, try to draw on your personal past experience with a customer, employee, or even family member. In short, it is important to keep your calm, address the customer respectfully, listen to their claim, and check if there is any real basis (mistakes do happen). If the drink order was indeed wrong, apologize and proceed to remake the drink. If the problem is with the overall taste, try to find out the exact problem by asking additional questions and make corrections to the drink to fit the customer's needs.
Q: If a customer picked up their drink, took a sip, and became visibly unhappy, but didn't approach an employee about it, what would you do?
A: Not all customers voice their complaints. In fact, few of them do! However, someone who is unhappy with the product or service will not return and will inform their friends and acquaintances about their negative experience. Therefore, you also have to be observant of their reactions.
In this case, the best course of action is to reach out and ask if they are enjoying the beverage. If they are truly unsatisfied with the drink, they will offer insight into what seems wrong (different taste, not enough cream, and so on). Once you have the information, offer to remake the drink right away, while staying friendly and respectful.
Q: What is your favorite drink at Starbucks?
A: This is a way to separate good candidates from the really passionate ones (who will most likely be offered the job). Starbucks puts a lot of value on passion and they want their employees to actively spread the joy and fun of being part of the brand.
Therefore, when you answer this question, provide as much insight as possible about your favorite beverage(s). Why you like it and how you like to combine things.
It's also a way to showcase you know the menu and understand what it means to be a customer.
Q: Why do you want to work at Starbucks?
A: Starbucks is one of the biggest brands in the world, so it is an incredible experience to work with such a company! When this question arrives, be honest and express your admiration for their culture, their projects, and the overall popularity of the brand.
Q: How would you handle a rude customer?
A: First of all, it helps if you already have experience with this type of situation. In this case, simply describe your behavior and the outcome (if it was positive). If not, it's always a matter of applying the "triple-A approach:"
Acknowledge the person's feelings by saying something like "I see you are upset…"
Apologize in a way that seems sincere "I am sorry you feel that way"
Admit there is/may be an issue and let the person know you are working on resolving the problem.
Q: Tell me about a time you made a mistake. How did you fix it?
A: We're all humans and we all make mistakes; there's no going around it. In addition, as a beginner, you will make your own share of mistakes. The key is to remain calm, acknowledge your mistake and try to fix it if it's within your power. If not, ask the help of a colleague or superior.
Q: If we run out of a product or ingredient, how would you explain the situation to a customer?
A: Notify the customer about the missing ingredient or product and offer a few alternatives. For instance, if they want a blueberry muffin (and you're out) you can offer a few different flavors that are available. You can take a few hints from the beverage they ordered (if) and recommend options that go well with it.
Q: Are you available during the early mornings, nights, weekends, and holidays?
A: Yes, I am happy to take on any shifts as long as they don't overlap with my [mention any prior commitments such as classes, childcare obligations, and similar].
Q: If you saw a coworker take $1 out of the register and put it in their pocket, what would you do?
A: This question tries to assess your position when it comes to conflict between coworkers. The answer should start with you trying to communicate with the person and ask why they did what they did. If they are responsive and apologetic about their deed, ask them to put the money back and promise it won't happen again. However, if they are confrontational or rude, it's time to ask for help from a supervisor or manager.
Q: Can you describe a time where you went above and beyond for a customer? Why did you go the extra mile?
A: I like to think I go the extra mile for all my customers as I don't like to give favors or treat people differently based on their appearance, social status, or any other reason. As long as it is in my power, I will work hard to make everyone feel special.
Q: How would you define excellent customer service?
A: Excellent customer service is about meeting and surpassing expectations. The customer must feel comfortable and happy to interact with the brand and look forward to any further encounters.
Q: Which of your traits makes you best equipped to excel in this role?
A: I am a communicative person with a friendly demeanor who enjoys making people feel comfortable. I am also organized, hard-working, and enjoy an energetic environment where I can meet a wide range of people.
Also, make sure to mention other traits that make you the best fit for the job.
What Happens After The Interview?
Overall, the hiring process at Starbucks is fast-paced, so you should know the answer (positive or negative) within one or two weeks from the interview (depending on the job you applied to). For instance, if you applied as a barista, it's very possible to know the answer in about three days, but it may take longer for management positions.
If you've got the job, you will go through a period of on-the-job training and then you can consider yourself a true member of the Starbucks community!
In the end, we hope we managed to cover all the important aspects of the Starbucks hiring process, but if you have any questions or want to add your experience with the brand, don't hesitate to leave us a comment.