Fill your employment gap with… Gap! I doubt this is the first time you're hearing about this apparel store, and if it is, what are you even doing here looking for a job in retail? Come on, this is the Gap we're talking about!
All jokes aside, if you're really not familiar with the store, the first Gap opened up in 1969 in San Francisco by Doris and Donald Fisher. Back then, Mr. Fisher wanted to call it "Pants and Discs," but his wife pitched the name "Generation Gap." To be honest, it's a much better name, don't you think? Gap started as a store selling records and jeans and in the present day has over 3590 locations in 43 countries! If you're looking for your next job in retail, you might be impressed by the incredible benefits and pay that Gap offers. Let's have a detailed look at the company and help you get a job at Gap!
Gap Jobs
Gap is extremely versatile when it comes to open positions. There's a lot for everyone, so even if you don't have tons of experience or any experience whatsoever, you can find a fit with Gap – no pun intended. There are various Gap careers to choose from, such as Customer Service Representative, Sales Associate, Warehouse Associate, Talent Scout, Statistician, Merchandise Assistant, and many, many more! Most jobs will require you to talk to customers firsthand, but there are a few exceptions in warehouses for the introverted types. The pay is a standard-living wage for entry-level positions and gradually builds up with the more responsible positions such as Manager and Assistant Manager. The company prefers to promote from within, but it's not unusual to hire fresh personnel.
Hiring Requirements
There aren't many requirements for starting a career with Gap. The most obvious one is the age restriction. You need to be at least 16 years old to start an entry-level job at Gap. This age gap (pun intended) can rise depending on the position you're applying for. Additionally, most jobs will require you to be able to stand for prolonged periods of time and lift a small amount of weight, mainly various types of stock items. You can find other role-specific requirements in the job descriptions, such as minimum requirements for experience and education you might need. All candidates should have a right to work in the USA.
Does Gap Offer Benefits?
Gap offers some of the most competitive benefits in the industry and has been named one of the best places to work by the Human Rights Campaign for 14 consecutive years. Pretty impressive! Many of the benefits are eligible for part-timers, but do check for this state and role-specific information with your manager or interviewer to be absolutely certain of your benefits package!
Merchandise Discount for Gap Brands – 50% off: For all staff
Paid Time Off: For managers and full-timers
401k Plans: For managers and full-timers
5 hrs/Week Paid Volunteering Scheme for a Charity of Choice: For all staff
Employee Stock Purchase Plan: For eligible staff
Medical, Dental, and Vision Life Insurance: For eligible staff
Careers At Gap
Sure, Gap is the perfect place to start a career, especially if you have little to no experience, but the company also has the breadth for career advancement. If you're planning on sticking around for a few years, it's worth taking a look at the numerous possibilities for growth and development. I have selected three jobs that can show you a potential career trajectory with Gap, but know there are many more jobs and opportunities available!
Gap General Manager
As the Gap General Manager, you are responsible not only for leading and developing your team's talents but also for ensuring the store meets the key deliverables and exceeds daily, monthly, and yearly goals. You'll be training staff and optimizing customer service at the store, while also driving profit and staying on top of merchandising, product operations, customer operations, and finance.
Gap General Manager Salary: $215,864/year
Gap Assistant Manager Merchandising
As a Gap Assistant Manager, you'll be the bridge between team members and the General Manager. You'll be collaborating with the whole staff to ensure a high-performance team. Of course, there are other responsibilities too, such as driving profitable sales; staying on top of finance, customer service, merchandising, and talent development; and training new employees!
Gap Assistant Manager Merchandising Salary: $58,700/year
Gap Sales Associate
You don't need any experience to start as a sales associate with Gap. The company provides lots of training! You just need to be friendly and eager to create a positive experience for customers. You should also thrive in a busy and fast-paced environment in order to fit in with the daily store culture. Aside from that, your role would consist of organizing merchandise, creating store displays, maintaining cleanliness, and, of course, ringing up purchases. After your training, you'll have good knowledge of the stock, so be prepared to answer customer questions about merchandise occasionally.
Gap Sales Associate Salary: $8–9/hour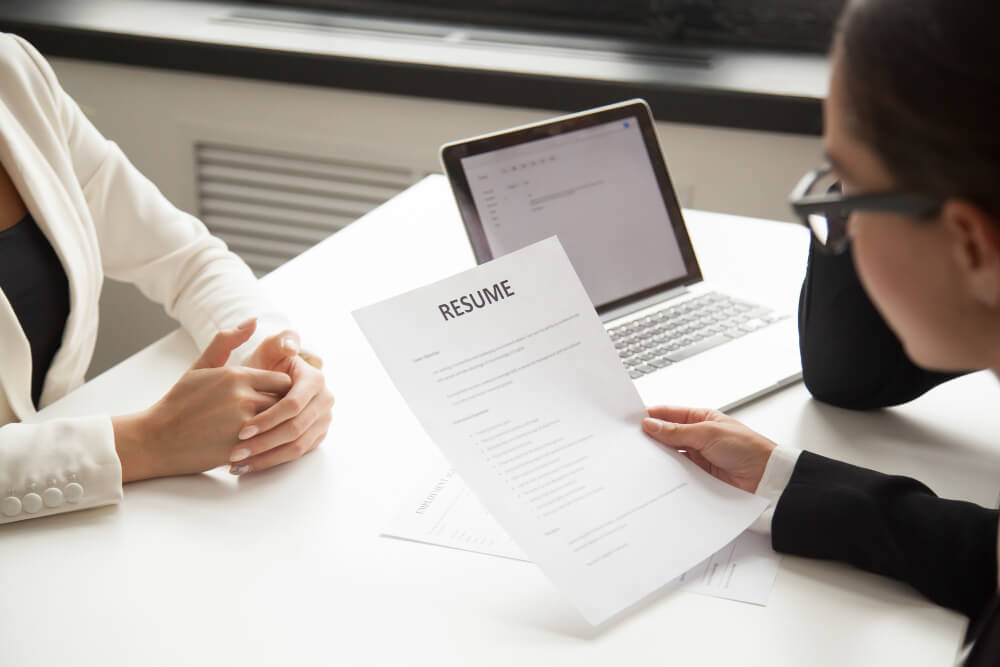 Gap Application 2021
Great! So far you have learned all about some of the most common jobs available at Gap. I'm guessing you probably expressed some interest, especially after hearing that most entry-level positions don't even require previous experience in retail. So what's next? Applying, of course! There are two ways of applying for a career at Gap. You can print, fill out their Gap application form, and walk into your closest Gap store to hand it to a manager. This is a nice way of introducing yourself and making an impression face to face. You can say hello to some of the staff there, gauge the energy of the store, as well as have a little chat with one of the employees. Switch on your most charming self! If you make a good impression on the staff, they might throw in a good word for you.
The other way of applying is through the official careers website, where you can look for available positions online. After you have selected the job you want, click "Apply now," and create a profile to start your Gap online application. You'll be asked to fill in similar information to the printable Gap application form, but this time, you can track your result, as well as upload a resume if you wish. This brings me to a very important point.
Do You Need A Resume For Gap?
Let me guess, you thought that just because Gap hires people without experience, this will be your chance to take it easy and skip the time-consuming resume creation. Well, you're wrong about two things here.
Firstly, even without experience, you can be a favorable candidate by showing off your skills and enthusiasm on your resume. Plus you might have had some unpaid experience that could be worth including in a resume, such as volunteer work, school rep experience, or competitions that you have won. Also, if you speak multiple languages, there's no way your boss will know that if you haven't included it on the resume. The same goes for education. Are you studying something that can prove useful for your job role? Putting some effort into a resume really speaks volumes about your enthusiasm for the job.
The second thing I would like to emphasize is the common misconception that resume writing is time-consuming. It doesn't have to be! Have you heard of resume templates? No, I'm not quite talking about the Microsoft Word templates that everyone has used time and time again. They are no good. However, if you have a look online and do a bit of research, you can find loads of amazing templates that will make your resume stand out for free! In fact, I'll save you the search right now and introduce you to three job-specific resume templates and some excellent advice on filling them in.
If you really want to impress your hiring manager and future boss, you should definitely include your 3–5 years of work experience leading others on your resume. Your college degree should also be featured on the CV, as well as your business acumen skills. Needless to say, being a time-management virtuoso with strong planning and prioritization skills is extremely important for this role, so drop in a few lines about your soft skills. Do you have any previous knowledge of health and safety procedures? This is another huge plus when being considered for a job.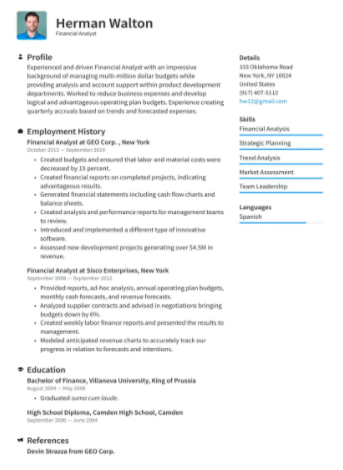 It's important to highlight your retail and merchandise experience here, and bear in mind you'll need to have been a retail employee for at least 1–3 years. You also need to be a high school graduate, so if you're too young for this role, you might not get considered! Like soft skills, you can include your excellent written and verbal communication, your passion for retail, and your ability to work in a fast-paced environment.
Since Gap Sales Associates often get hired without any prior retail knowledge, try and focus on selling your personality here. What are some interesting achievements you have earned in recent years? Any extracurricular work that can be useful here? Did you participate in the organization of school events? All of these could be useful when trying to strike a great first impression.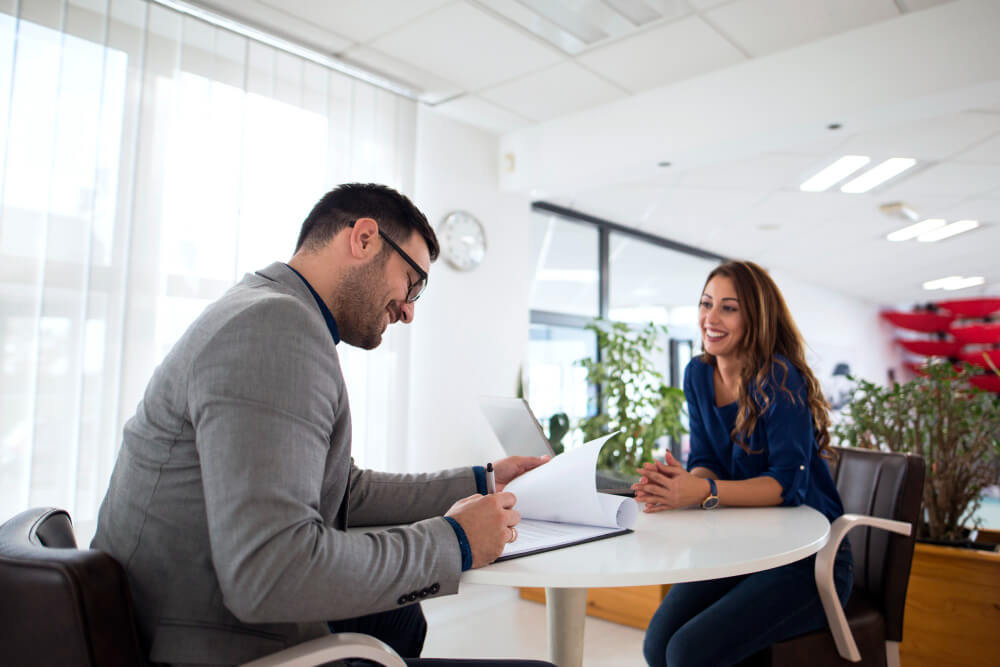 Gap Interview
Wondering how to get a job at Gap? It's easier than you might think. Sure, like anything else, it's best if you go to your interview prepared. What does that entail? Trust me, you'll hear lots of different things and read even more obscure ideas on the Internet, but you'll find the most common and useful advice is to research the company and prepare for the interview questions.
For the first one, find out something interesting about the company. Dig into some research, not just of Gap's history but also some fun facts. You might get asked, "What do you know about Gap?" at your interview. You don't want to sound unprepared, right? Don't worry, I've got you covered. Below are some fun facts I collected to help you minimize your knowledge… gap?
Use These GAP Fun Facts to Help You Land the Job:
The company founder, Don Fisher, started his very own clothing store because he couldn't find a pair of 31-inch jeans for himself. After 5 years, his investment paid off, and Gap had accumulated sales nearing $97 million.
The Fishers first worked for Levi's but in time made their own brand of apparel, called the Gap, and by 1991, they were the second top-selling brand of American clothing, closely following Levi's.
Gap didn't like to go with the flow. They often neglected trends to make room on their displays for the most commonly sold items. They stocked a small number of styles in varying sizes and colors.
Gap started out with some pretty attention-grabbing and controversial ads. A 1975 ad featured a pair of unzipped jeans, with a slogan, "The Gap is Open!"
Gap has had a number of logos over the years. The most popular have been the following:
"Get it at the Gap."
"For every generation, there's a Gap."
"Kid fresh." – for Gap Kids
With these fun facts in mind, you can easily start impressing your hiring manager! Researching the company you're interviewing at isn't the only way you can prepare for an interview. One of the best things you can do is have a look at some frequently asked questions at interviews, and practice answering them. I'm not talking about learning your answers off by heart because that will just make you more nervous, and it won't look natural. Instead, have a look at the following examples and the advice for answering each one!
Gap Interview Questions
I recommend you grab a buddy for this one, and play pretend for a little bit. Practicing the way you answer some of these tricky questions will definitely help you with your interview. You can gain some confidence, and in the practice, you'll find the best answers. Of course, I won't leave everything to your imagination. I have included some useful advice when it comes to answering these questions.
Q: Why do you want to work at Gap?
A: It's Gap, so I doubt my usual piece of advice will help here. Normally, I would suggest you link the company to a nice childhood memory, but I doubt your mum took you to Gap on an evening weekend stroll. So you'll have to think of something else. Remember, your answer needs to be unique, so don't try to be smart about it, and say something like, "I need the money, obviously." That won't make you stand out.
So maybe you saw a really hilarious TV advert some years ago that really sunk into your memory, and it made you think about applying? Yeah, you know it's cheesy, but marketing is marketing! Or maybe you have a friend who works at Gap and really enjoyed the atmosphere, so you listened to his recommendation and decided to give it a try? There are many ways to answer this question, so play around with it!
Q: What are your top 3 strengths?
A: I know, self-evaluation can be annoying – we can often spot our biggest insecurities but never our most incredible strengths. Sometimes it's easier to ask a person close to us for their opinion – a friend, parent, or even teacher, what they think our main strengths are. They can give you a surprisingly positive answer and probably have a good deal of examples to back it up with. If you listen to my advice and decide to have a go at playing pretend interview, you can even ask your friend right now! Just remember – the answer should never be about listening skills. Think quality, not quantity, and make sure to back up your answers with some convincing examples!
Q: What is your greatest weakness?
A: Yes, you might even get asked about weaknesses during interviews. You might think, "What is the point? Like I'd tell them the truth anyway!" But that's the catch – you should tell them the truth, but don't dwell on your weakness. Are you pretty bad at saying "no" to people? Do you end up doing other people's jobs but neglecting your own in the end? Okay, what have you recently started doing that is helping you overcome this weakness? This is the key to answering this question without feeling bad for yourself or making a bad impression.
Q: Why should we hire you?
A: This is your moment. You should do your very best to impress your hiring manager here. What specific skills and achievements make you right for the job? Maybe you speak a few languages, and you'll be able to communicate with a wider range of customers this way? Or maybe you are very used to talking to strangers after that summer volunteer camp? Whatever your answer, make sure to relate it to the job's core requirements, to prove you are the right fit for the job!
Q: Where do you see yourself in 5 years?
A: Another question that can fill you with despair and send you into an existential crisis! Don't worry though. We'll figure out a great way of answering it together. You don't have to have your life figured out in detail to answer. You don't have to know exactly where you'll be. Just talk about your aspirations and interests.
Have you started a degree recently? Maybe you want to work at Gap and support yourself during that period. Or maybe you are looking for a stable job with room for advancement? Whatever your answer, be honest. No one says you have to sell your soul to Gap to get a job there, and I bet they won't believe you even if you tried. Being honest will really increase your chances of being memorable, and it will give your manager a chance to get to know you.
Q: You're going for a wine tasting trip. Pick an outfit, and try to sell it to me.
A: I love this question. It actually shows a great deal about the company. Grab that friend of yours, grab an outfit, and do your best to convince them to buy it. Talk about the colors and textures of the clothes. Are they formal? Or a mix between smart-casual? Really try to embody a sales associate attitude, and make sure to be happy and smiley, just like you would with a real customer!
Q: Can you name where you got every clothing piece on you?
A: This is a bit of a strange question, but it has been asked several times during interviews with Gap. If you remember where you get your clothes from, you clearly show some kind of interest in fashion and design, and you're not just someone pretending to care for a job in retail. It also shows the quality of your memory. Working at Gap, you might have to memorize a lot of items and materials, so it's good to check what you're putting on before heading to an interview at an apparel store!
What Happens After The Interview?
Hopefully, you're not ultra exhausted – interviews at Gap are some of the easiest and most welcoming out there – according to other candidates. It's normal if you feel drained. Speaking to strangers isn't everyone's forte, so go home, grab some comfort food, and have a stress detox with a pet! Know that Gap usually takes a few days to get back to candidates and it's likely you'll get a call soon if you are hired, just don't wait around the phone – it's not healthy!
So what comes next? You'll most likely be introduced to the staff and environment, so you have an understanding of where everything is. There'll be some form of training, and it might take a month or two to get used to how the place runs. Nothing too scary, so don't worry! I'm keeping my fingers crossed that you get the job!
I hope this guide gave you some inspiration and advice on how to get a job at Gap! Let me know in the comments below about your experience applying for Gap.