Food City sounds like the most delicious type of city to live in, but I doubt Jack C. Smith had this in mind when he founded the supermarket chain in 1918. Sadly for us, Food City isn't an edible utopian settlement, but if you're hungry for work, I'm sure there's something we can sort out!
Food City is a supermarket chain, and if you're based somewhere in Alabama, Georgia, Kentucky, Tennessee, or Virginia, I bet you have done your shopping in a Food City store at least once in your lifetime. If you haven't, you might have come across some of their pharmacies and fuel stations which started popping up in the last several years. Food City is also synonymous with the NASCAR races, as the company helped fund the reconstruction of the Bristol Motor Speedway – "The World's Fastest Half-Mile" – and funded two separate dirt track races. Pretty cool for a food supermarket, don't you think?
I'm sure Food City facts isn't what you came here for, so instead, let's take a look at some potential jobs you can apply for in Food City.
Food City Jobs
I hate to turn people away from the start, but if you're thinking you can get a job in dirt track racing through Food City, you are very mistaken! The Food City store chain is huge, so new positions in retail are constantly popping up on the careers website. It won't come as a shock to you when I tell you that you'll be working directly with customers for almost any position available, unless you decide to take on a job as a Warehouse Worker, of course.
When looking for jobs at Food City, you don't have to follow the traditional path. You can join the team as a baker, cake decorator, fuel clerk, sushi chef, etc. There are endless opportunities at Food City, so don't feel like you need to limit yourself to being a cashier, but if that job suits your schedule and expectations, there's nothing wrong with that! Let your imagination run wild, and if you feel you have the experience, try your luck.
Hiring Requirements
Don't worry, you don't have to jump through hoops to meet the job requirements for Food City! For most jobs, you have to be at least 18 years old, although there are some entry-level positions that hire from 14 and above. Most positions require some form of previous service experience, but it's preferred, not mandatory.
Does Food City Offer Benefits?
There are plenty of benefits for all staff working at Food City. Most of your perks will depend on the hours you have worked, so make sure to check in with your boss where you stand when it comes to benefits. Overall, Food City offers the following:
PTO: For full-time staff
401k up to 3%: For full-time staff
Dental Insurance: For full-time staff
Life and Disability Insurance: For full-time staff
Employee Stock Ownership Programme: For all staff
Flexible schedules: For all staff immediately upon hiring
On Job Training Programmes: For all staff immediately upon hiring
Careers At Food City
No one's saying you have to devote your whole life to a job at Food City, but why not make the most of your time working there? If you're thinking about keeping a stable job while you're still young and gaining experience, it might be worth researching what your career trajectory could look like. Even if you're starting out at the company, so long as you're eager to learn and plan on sticking around for a few years, you'll have a lot of opportunities for growth and advancement. Here are a few jobs worth looking into.
Food City Produce Manager
Ordering people around isn't the only thing managers are responsible for, you know? Sure, a level of staff supervision paired with diplomacy and professionalism is an essential part of the job, but there are also other responsibilities Produce Managers are going to have to look after budgeting, maintaining department requirements, stocking, writing financial reports, bumping sales, and profits, and maintaining stock inventory. This is only a small number of tasks that managers are in charge of weekly. If you are organized, responsible, and think you have the right attitude paired with previous experience in management, this job may really appeal to you!
Food City Produce Manager Salary: $42,882/year
Food City Assistant Store Manager
An Assistant Store Manager to a Manager is what Robin is to Batman – the supporting character who's there to aid the boss and keep the ball rolling. Assistant Store Managers are, above all, excellent co-workers who serve as the metaphorical "glue" that keeps the whole team together. Of course, there are many other responsibilities that Assistant Store Managers are in charge of daily – accepting deliveries, stock arranging, training and hiring new team members, and overseeing health and safety regulations – are all part of the job! If you think you have what it takes and are prepared to take on more responsibilities, eventually, you can progress to this role! Alternatively, if you have previous experience, you can apply straight away.
Food City Assistant Store Manager Salary: $25,243/year
Food City Cashier Example
Food City Cashiers are the face of the company that customers first come to contact with. For this job, you're expected to be positive, friendly, and efficient. It's not a job for the weary types, for sure. Other than that, your daily tasks are pretty simple: ordering and stocking items, maintaining a clean working environment, and handling money transactions, food coupons, item returns, and discounts accurately are some of the responsibilities that you'll be expected to undertake daily. It's a standard, entry-level job with a flexible schedule, perfect for people with little to no experience!
Food City Cashier Example Salary: $9–10 /hour
Food City Application 2021
There are two ways you can apply for a job at Food City. If you know about a store nearby and you're eager to apply ASAP, you can always print your resume and head straight in to apply in person. Be prepared that as a formality, you might still get asked to submit an online application. Some people prefer this method when available so they can talk to somebody face to face and make a positive impression. Keep in mind that Food City doesn't have a printable PDF application you can download from somewhere. Their online application and in-person resume submission are the only ways to apply for a job at Food City.
On the other hand, not everyone has the time or the courage to drop in with a printed CV, so applying for a job using the Food City online application form might suit them better. It's also nice to know that you can keep track of your application status online, which you really can't do if you apply using the first method.
When looking for a job at Food City, you'll need to log onto their official careers website and start your very own career research. Continue looking for a job by submitting a Food City application form and uploading a resume. Hold on, you've got a resume right?
Do You Need A Resume For Food City?
I hate to break it to you, but if you thought you could get away with just the application form, I have some bad news for you. Well, they're not technically bad. Creating a resume will actually serve as a huge plus for you, regardless of the experience you have. It's a great way of standing out and showing your future boss that you care about the job enough to put some effort and work into presenting yourself well.
You don't actually have to make a separate resume for each job. Sure, MS Word has a few CV templates, but they're all pretty boring, and there's a high chance a lot of people might have used them already. Instead, I can highly recommend you go online and have a look at some free templates. There are actually a lot of websites that not only share free templates but also provide job-specific writing advice. They're especially good if you have no clue how to write your resume or what to include.
Whether you're creating a resume for the first time or have been doing it for years, there's a huge chance you'll gain some inspiration from example templates. I have selected three job-specific templates and added some information that you should definitely include when applying for a job at Food City. Check them out.
The best thing you can do when you are updating your resume is to check for keywords in the original job vacancy description. A lot of recruiters nowadays use software that scans through CVs and through existing matching keywords pulls out the most suitable candidates. From looking at the job description for the Food City Produce Manager job right now, I can tell you instantly that you should include "business acumen skills," as well as have previous experience with P&L statements among the rest of your impressive skills.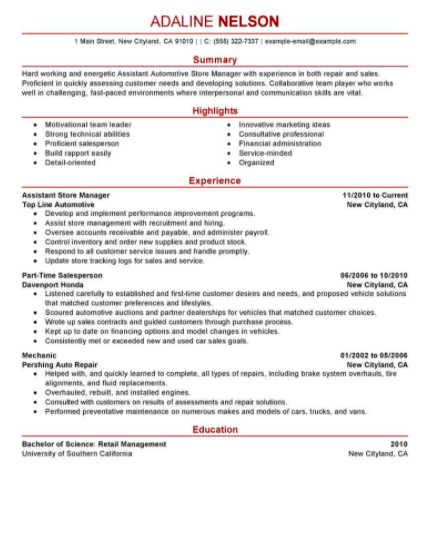 Bearing in mind my previous advice, try to implement what I have said to any kind of resume you're creating. For aspiring Food City Assistant Store Managers, I'd recommend you include your understanding of OSHA guidelines, as well as company HACCP policies and other Food City-specific procedures. Make sure you've got the required minimum experience for this job – in this case, 3 years, and make it obvious on your resume!
The Cashier position at Food City doesn't actually require previous experience in retail (although it is preferred). So you might be wondering, what do I write if this is literally my first job ever? Well, perhaps you don't have experience in retail, but you have volunteered somewhere? Maybe you were part of a school extracurricular which has put you in a lot of social situations?
There are plenty of skills you could have developed without having worked somewhere else before, and not necessarily in retail, which you can apply to your resume. Just make sure to highlight your strongest skills, as well as your interests and education! I once had a severe advantage over another candidate because I had volunteered for Eurovision and my boss absolutely loved watching the song contest! You never know who you might be speaking to, so let your personality shine!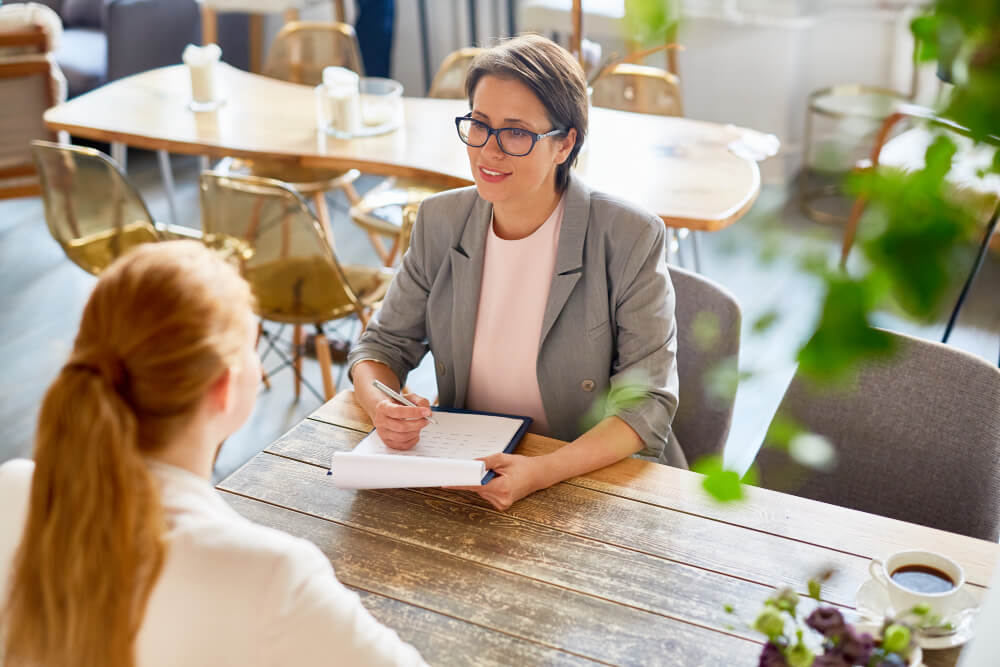 Food City Interview
Even if you don't have tons of experience, the impression you make at an interview can totally change a hiring manager's impression of you. If you're eager and show you are excited about the role, you can have a significant disadvantage over someone with tons of experience but a lack of interest in the position.
Another great piece of advice I can give you, which is also an excellent time-filler if you're unemployed and have a lot of available time on your hands, is to research your employer thoroughly. Imagine you're stalking your ex's new girlfriend. Be thorough is what I'm saying. What can you find about the company that makes it unique? What's its history? Are there any interesting facts? You might get asked a very dreaded question during your interview: "What do you know about Food City?" Personally, it makes me feel a bit like I'm in school, as though I'm passing a history exam, but I also don't want to look unprepared, so I tend to look up some fun facts about the company that I know will stand out in my mind and will be easy to remember.
Use These Food City Fun Facts to Help You Land the Job:
Food City actually dates all the way back to 1918 when the first store opened in Greeneville, Tennessee, making the company over 100 years old!
Food City has actually branched out a lot over the last few years. They don't just own food stores – the company has expanded into new market areas such as pharmacies and fuel stations.
Food City has 130 locations in the United States!
Food City hosts and sponsors tons of events – there are Farmers Markets, Company-Wide Hiring events, Summer Concerts, and more!
Food City has been a sponsor for NASCAR racing at the Bristol Motor Speedway, taking part in the funding of two of its most popular races – the Food City 500 and Food City 300.
Noting down some fun facts is a great way to start your interview preparation. I remember when I first heard I had to prepare for an interview – I had a flatmate that was a little older than me. She was applying for a really important job and asked me to help her with some interview questions. Up until then, I hadn't properly prepared for an interview. I thought it would be an extremely complicated process, but actually, it wаs pretty easy! You can try it yourself if you grab a friend and have them pretend they're your hiring manager. Then, you can go through some questions and try answering them. Speaking of those, here are sample questions that might come up during your interview.
Food City Interview Questions
There are a few questions that tend to always make their way into interviews. I like to call them FAIQs – Famously Asked Interview Questions. I did a lot of research, and the following examples are a mix of FAIQs and some questions asked by real-life Food City hiring managers.
Q: Why do you want to work at Food City?
A: Start by showing your excitement for the job, and think about your personal reason for applying. I doubt there's a childhood memory you can relate to a supermarket, but you can easily explain you have been a customer before, you live nearby, and you're looking for a stable job. Maybe this job opportunity will allow you to improve in some way? Show your interviewer that hiring you is a win-win situation.
Q: What are your top 3 strengths?
A: If I were you, I would avoid listing skills here. Most career websites will advise you on saying things like "creative thinking," "discipline," and "enthusiasm." This all means nothing if you don't back it up with some examples or explanations. I'd start off with a joke: "Well, recently I've been pretty good at breathing." Hopefully, they laugh, but if they don't, you can safely say jokes aren't one of your 3 main strengths. Then, I would go on to talk about a recent skill I have acquired.
Does that skill fit with one of the job description requirements? It doesn't have to, but it will help if it's related to the job somehow. Saying you recently discovered you're a video game virtuoso won't really mean much when it comes to a job in retail, although it might spark an entirely different conversation and help you potentially bond with the interviewer.
Q: What is your greatest weakness?
A: Please, I beg of you, don't try to disguise a strength as a weakness! We've seen it all before. It's a tale as old as time, and most interviewers will roll their eyes infinitely at such an answer. Saying you're perfect or better than everyone else will create an equally awkward response, this time based on your arrogance.
Have you thought about being honest about your weaknesses instead? That's right, being upfront about things you're not good at shows that you can self-evaluate well. Just make sure you have explained to your hiring manager what you're doing in order to improve on this potential flaw. Will a job at Food City aid you on your way to improvement? If so, say it!
Q: Why should we hire you?
A: Time to make an amazing impression on your interviewer. Talk about your skills, previous experience, and education. What makes you unique? Have you done this sort of job before? Maybe on top of all your fantastic skills, you also have some incredible writing skills, and you could be a breath of fresh air for the store's social media page? Bringing your personality into the job is a great way of making a good first impression.
Q: Where do you see yourself in 5 years?
A: If you're young, perhaps you haven't planned your future in full detail yet, but I'm sure you have some aspirations for yourself. It's quite likely you won't be working for Food City in five years, so if not, what would your future path look like? Are you going to be finishing a degree? Do you need a stable job while you acquire a different skill?
In some cases, you might even enjoy working for the company but realize you'd be better off in marketing or sales instead. Be honest. No one is expecting you to work for a food chain company for the rest of your days, so instead, use this opportunity to showcase your unique personality and interests.
What Happens After The Interview?
You go and treat yourself for going through with it! Interviews can be mentally draining, so it's good to do something nice for yourself after that. It will probably be a few days until you hear back from Food City unless they were so charmed by you that they gave you the offer straight away. If they didn't, don't worry. It's rare that a candidate gets offered the job on the spot. You're most likely to receive a call or a confirmation status on your online profile with Food City. Whatever you do, don't sit by the phone expecting a call. Instead, focus your energy on applying for more jobs because at the end of the day, if you didn't get it, you can always try again. I wish you a happy job hunting!
Meanwhile, you can also kill time by telling us all about your experience interviewing with Food City. Were there any interesting questions you got asked that weren't on our list? Let us know in the comments!