Do I really need to introduce Disney or Disneyland? We've all grown up side by side with the incredible movies and I bet you can instantly think of your favourite. As Disney monopolized the animation scene in recent years, their entertainment parks expanded all the way to the other side of the world – there's even a Disneyland in Hong Kong and Shanghai. Needless to say, plenty of jobs are constantly popping up, so if it has been your dream to work for Disney, you'll find tons of information and tips on how to get a job working for the Mouse!
Disneyland Jobs
Efficiency is a big thing at Disneyworld. The company is all about creating a community between the Cast Members and their beloved Guests. People from all over the world come together and share their mutual adoration for Disney! That sounds so delightful! Disney's big on keeping the magic alive and making you feel like you are transported into a completely different world.
For example, If you start working there, you might come across a kid who has spotted Mickey Mouse twice in one day in two separate locations. They might come up to you and ask: "How was Mickey in two places at once?". Well, you're not about to shatter this little kid's world, are you? Instead, you'll say "Well, Mickey just flew over on Dumbo, of course!".
This is just one of the many examples of what it takes to keep the illusion alive and never break out of character while working at Disneyland. A lot of the rules that Disney reinforces are pretty strict, but it's because of those strict rules that their entertainment parks are so successful. After all, top-quality customer service is what keeps people coming back for more!
Hiring Requirements
Disneyland opened back in 1955, and since then the theme park company has become famous for the friendly appearance of its classic cast members. As Disney themselves put it: "our look is a classic look that is clean, natural, polished and professional and avoids cutting edge trends or extreme styles". This includes piercings that aren't one earring on each ear, long hair for men, unnatural coloured nails or hair and tattoos that can't be covered up with makeup.
Aside from maintaining the Disney look, there are a few more requirements depending on the job position you're applying for. All jobs require you to be at least 18 years old, have a High School diploma, and be willing to work outdoors in all weather conditions. This means that if you're not good with heat, you should think twice before applying.
Does Disneyland Offer Benefits?
There are many pros and cons to working at Disneyland, but there is one benefit that outshines the rest – free park admissions! That's right! As long as you work for the Mouse, you get free park admissions and access to many other awesome discounts. Remember – people are paying over $100 every single day to visit the incredible park attractions! And you – as a member of the Disneyland staff you can just stroll in for an hour before your shift and hop on the Incredicoaster without paying a single thing!
Of course, this all sounds wonderful, but what about health insurance and other benefits? Let's take a look at the rest:
50% off when staying at one of the Disneyland resorts: Available for all cast members
40% off for friends and family: Available for all cast members
Retirement plans: Available for full and part-time staff
PTO: Available for full-time staff only
Tuition assistance: Available for full time and part-time employees
Weekly pay: Available for all cast members
Health insurance: Available for full-time staff
Careers At Disneyland
When you start applying for different jobs at Disneyland, you'll see that there's a huge selection of jobs to choose from. There are positions available in production and abroad or at sea. There are also Disney office jobs and of course, the ones we'll be focusing on here – park, resort, and retail jobs. Sadly, I won't be able to go into detail about all positions but I have highlighted three exciting job opportunities for you! Let's see them:
Disneyland Guest Experience Manager
As a Disneyland Guest Experience Manager, you'll be in charge of a team of hourly Cast Members. You will be inspiring and motivating them, exemplifying leadership and delegation skills. Keeping an eagle eye on your location is extremely important – cleanliness and making sure everyone is staying on top of the Four Keys (safety, courtesy, efficiency and show) is a manager's responsibility!
Disneyland Guest Experience Manager Salary: $47,778 /year
Disneyland Food and Beverage Handler
As a food and beverage handler, you will be responsible for greeting all guests upon arrival, dealing with seating charts, and running food and drinks. You should be comfortable speaking in front of large groups of people. If you are bilingual and have previous experience in cash handling, you will be even more desirable for this role.
Disneyland Food and Beverage Handler Salary: $10.96 /hour
Disneyland Actor
If you're auditioning to become a Disney parks princess or any other character, know that you might have to start at the bottom to make it to the top. When auditioning as an actor, you won't be trying your luck for one specific role – you could end up being any of Disney's beloved characters! So even if you ace your audition, you might not be set for royalty just yet. There are various factors to take into consideration – for instance, you could get picked for something just based on your height!
Remember that Disneyland park actors are not only part of the incredible entertainment, but they also serve as brand ambassadors, promoting a healthy and positive lifestyle.
Disneyland Actor Salary: $14.10 /hour
Disneyland Application 2021
Becoming a Cast Member at Disneyland resort is pretty standard – you just go through an online application available on the official Disney careers website. You'll quickly notice that it's much like any other average application process.
You simply select the job you want to apply for (from one of the four location categories), select the job level and career area you're interested in. Then, just start browsing the results.
The only different thing about Disney's application process is that you can apply only once every six months. I'm sure you wouldn't want to waste your opportunity, so I advise you to apply for the job you are absolutely sure you meet the criteria for. Don't waste your application and really do your research.
Once you have submitted the application, you will get an email asking you to do a personal survey. You'll be asked about your responses to different situations and how you would rate yourself using the "don't agree" to "very much agree" scale. If all has gone well, you'll be asked to set up an appointment for an interview. They usually go for a phone interview but don't worry about it – you will get all sorts of helpful links on how to prepare for it and if there is any kind of software you need to download (which isn't difficult to set up at all).
After that all you have to do is go through the interview – easy peasy, right? I'm only kidding! If you're excited about doing well on your interview, there's a whole section of commonly asked questions and answers I have prepared for you further down the article! But now begs the question – do you need a resume for Disneyland?
Do You Need A Resume For Disneyland?
Yes, you absolutely need a resume. Some Disneyland roles are so specific, you'll have to showcase your previous experience and amazing skills. You're applying for a position at Disneyland which automatically means that you need to prepare a magical resume.
Making sure you have a template that stands out is a crucial part of the process. Think fun and colourful and make sure to include a picture of yourself. Some of the template examples below don't match with the job title, but they showcase truly fun and colourful designs, and they can be updated with the right information.
You know the drill – managers are required to have A LOT of experience, so make sure to showcase all the awesome skills you have. Include your education, problem-solving skills, and all those years of being proactive, resourceful and flexible.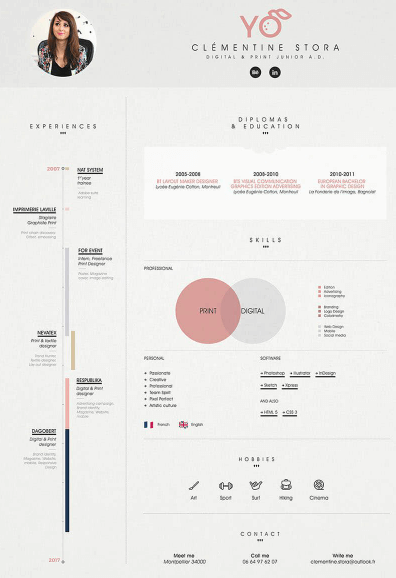 As a food handler, your responsibilities are pretty straightforward, even for Disney – so make sure your resume highlights how important customer safety is to you. How? Well, for instance, you can talk about your previous training in allergens and food safety. Show that you care and mix that in with your outstanding performance and people skills.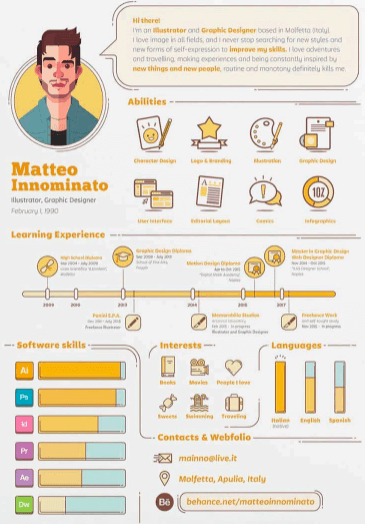 Depending on your background you can include tons of different information on your resume. As an actor what gigs have you performed in? Have you done theatre? Anything in front of a really young audience? Your experience with kids matters and it's good if you have already been part of projects with children as the target audience.
Disneyland Interview
Face to face interviews can be really scary, especially for a job that you want really badly. Some people dream of working at Disneyland and do a lot of preparing for their big interview. So in the section below, I'll go over some great tips and sample interview questions that will help you get a job at Disneyland. The most important thing to remember is the four Disney "keys" and to talk about them when answering the interview questions. They are the top four priorities at Disney – safety, courtesy, efficiency and show. Make sure the hiring managers understand how important those priorities are for you as well.
Disneyland fun facts that will help you stand out from the crowd:
Keeping the magic alive is extremely important, so if you get accepted for a job at Disneyland, you'll have to spend a day at Disney University and learn all about the special Disney "lingo" used when on-site, amongst other job-specific requirements.
If an employee wants to go on a break, they never say they're going on a break. Instead, they say they're going "backstage." In fact, people who work at Disneyland never refer to themselves as "employees" – they are called "cast members". Whether you're a bus driver, a waitress, or Ariel, you're part of the show that Disney is putting on.
As a cast member, you wear a "costume", not a uniform.
There's a specific way you're supposed to point at another Disneyland cast member. You never point with just your index finger – it's essential to point with two fingers instead because a single point finger can be interpreted as rude to certain cultures.
If you're wearing an adventure land costume, for instance, you're not allowed to be spotted with it outside of that area – you can't just take a stroll in Fantasy Land. Instead, you'll take one of the top-secret underground tunnels beneath the Magic Kingdom that are connected to every land.
Actresses who get to play one of the Disney princesses have to learn everything about their unique role in the Princess university and should work really hard to embody the character.
So far so good! Now, you know a little bit more about what working at Disney might be like. It's important to have some unique information about the place you're applying for so I do hope those facts I just listed help you land the job!
Let's get into some question preparation. I did a lot of research and collected the most commonly asked questions during Disneyland interviews.
Disneyland Interview Questions
The most nerve-racking part of applying to any job – the interview! It's tough when you have to apply for any job, and jobs at Disney are no different. But after checking out these questions and sample answers, you'll no longer ask yourself how to get a job at Disney – you'll know!
Q: Why do you want to work at Disneyland?
A: I mean it is a dream come true, isn't it? Of course, it's a dream come true for another 500 people who have given the exact same answer this week. So why do you want to work there? Do you relate Disneyland to a sweet memory of when you were young? Have you visited the park before as a kid with your parents? Maybe the moment you put on your first mouse ears really stuck with you and you can't wait to become part of the magical world of Disney? Be honest and dig deep – don't just go for a generic answer.
Q: What are your top 3 strengths?
A: I hate to break it to you, but there's no escaping this question. Remember the four keys I mentioned already? They are the literal keys to answering the most difficult questions. Safety, courtesy, efficiency and show. Maybe you're extremely energetic – working somewhere where you can release this energy sounds perfect to you. As an extrovert you're inspired by talking to people daily, so approaching hundreds of strangers every day will only help with showcasing your strengths. You also like to put on a show and be in character. If these are your strengths, then Disneyland just makes perfect sense for you.
Q: What are your top 3 weaknesses?
A: This is a tricky question, but there is practically a formula to giving a successful answer. The main advice is – don't be absolute in your answers. You're not perfect and even if you might think you are, everyone has weaknesses. It's how we deal with them that really matters. So for example, if you're struggling with time management and you feel like you can hardly find time for your hobbies, think about a way of solving that. Maybe you finally bought a bullet journal or a yearly planner and you've made a ritual to plan your week over a nice cup of cocoa every Monday morning? Showcasing you can work over your weaknesses is important, especially if you're about to work for Disneyland.
Q: Why should we hire you?
A: Your interviewer wants to see how excited you are about the role. Have you worked with kids before? Maybe you love the idea of being a source of happiness and beautiful memories for generations of kids? Maybe you're a great actress and you know all the Disney movie songs by heart? Showcase your excitement and act like you already have the job!
Q: Where do you see yourself in 5 years?
A: There are all sorts of things you could be doing in five years time. You might end up loving it at Disney and stick around – talk more about that if that's the case. But some people just want to have a fun and stable job while at university. We all need to support ourselves, so why bother with a boring job when you can literally have the time of your life and earn money? Know that it's also okay if you don't have a grand plan for the next five years!
Q: Tell us about a time when you had a difficult guest situation and how you handled it?
A: This is a very important question, so make sure you have an answer prepared beforehand. I'm not saying learn it by heart, instead, just have a situation in mind. Maybe you worked as a beautician and all was going well and good until you met a very difficult client. Perhaps they had some standards and requirements that made them more particular and difficult to work with. How did you handle that? Explain that you were helpful and understanding and tried to step into the shoes of your customer. Also explain that you showed courtesy and efficiency when dealing with this situation. It's also a nice way of going over the Four Keys again.
Q: What was a time when you had to deal with an emergency situation?
A: Again, give an example from your past. Was there a work situation you experienced? Try telling a story:
"I once had to go through an allergy emergency with a colleague of mine at work. She was allergic to over 14 different ingredients. After a long shift, she decided to treat herself to a brownie and some ice cream. She knew there wasn't anything that could spark an allergic reaction in the dish so she ordered it. Halfway through she asked for my help – I called the emergency services and my manager. I stayed as calm as possible and we were in luck – the ambulance came promptly and my colleague was safe. It turned out the new sous chef had sprinkled cinnamon instead of cocoa on the brownie for decoration. Sounds funny, but it's a pretty serious thing to go through."
Make sure you let them know you are the type of person who stays calm in an emergency, tries to quickly found a solution (calling 911) and immediately notifies your managers or superiors.
Q: Do you have any questions for me?
A: Don't reply with a generic "No, it's all good, you have covered everything!". Have a few questions ready. For example, if you're going for a job in attractions, you can say:
"Yes, I do have a question! I'm wondering what is the most important trait you think an attraction cast member should have and how can I work on that?"
What Happens After The Interview?
You pat yourself on the back, go home, run an extra special scented bath with a bunch of Epsom salts in and relax until you hear back from your interviewer. You'll most probably get a phone call and they'll run down the position, the salary, and whether it's part or full time. You basically give your answer on the phone, so make sure you're ready with your yes or no. If you accept the offer, you'll get an email confirmation and submit your answer electronically. And after that, it's a tale as old as time!
I hope you found this article useful! It's time for the question of the day – have you worked for Disney? Maybe you know someone who has. Was it a good experience? Let us know in the comment section below!